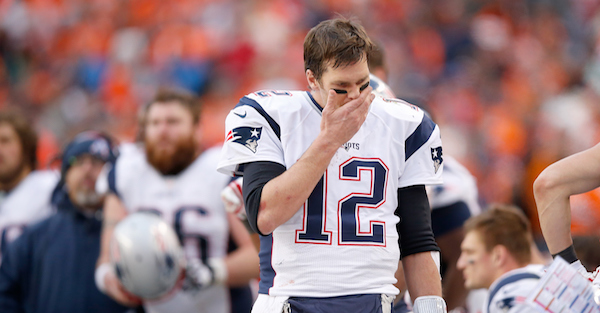 DENVER, CO - JANUARY 24: Tom Brady #12 of the New England Patriots reacts in the second half against the Denver Broncos in the AFC Championship game at Sports Authority Field at Mile High on January 24, 2016 in Denver, Colorado. (Photo by Ezra Shaw/Getty Images)
RELATED: Tom Brady backed down, but he plans to destroy Roger Goodell with this one reported move
---
You'd think the NFL would take Tom Brady's acceptance of his suspension and run with it, considering it took nearly two years to get. Instead, they're being the annoying older brother who just realized they can get away with anything by making Brady's contact with teammates and coaches virtually illegal during Brady's four-game suspension.
NFL spokesman Brian McCarthy told the Boston Herald that if Brady wanted and of his Patriot teammates to come over to his house and help him stay sharp, the NFL would prohibit it. Brady can?t ?engage in any team football-related activities or discussions with teammates, even if away from the club facility.?
Of course, any slip-ups would mean more punishment for Brady so it'd be wise to not push any more of Goodell's buttons. It still seems pretty ridiculous he can't have some of his friends over for a simple game of catch. Then again, who would really know if he did?
[h/t Pro Football Talk]