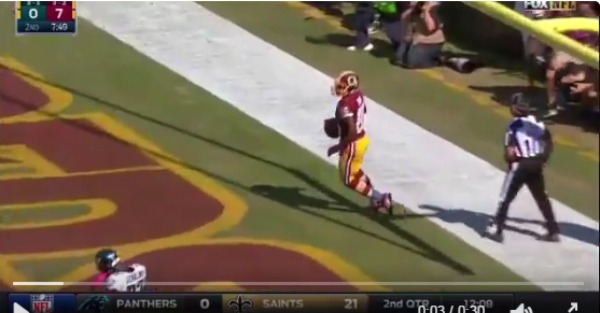 Twitter screenshot
https://twitter.com/SportsCast_THN/status/787720426461929472
The "No Fun League" has now gone beyond the pale with its assault on touchdown celebrations.
In the second quarter of the Redskins matchup with Philadelphia Eagles, Washington quarterback Kirk Cousins hit tight end Vernon Davis with a 13 yard touchdown pass, and Davis celebrated in one of the most harmless ways you'll ever see—by shooting the ball through the goalposts as if it were a basketball hoop.
It was a celebration that we've seen a thousand times before, but this time it drew a 15-yard penalty which led to an 86-yard kickoff return for a touchdown on the ensuing Eagles possession.
For all the talk about preserving the integrity of the league, this is a rule that will need to be addressed in short order come the offseason for that very reason.