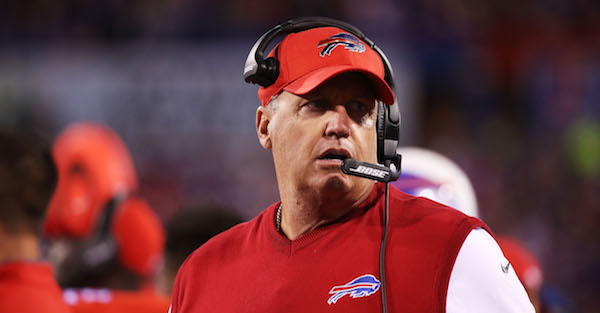 Tom Szczerbowski/Getty Images
ORCHARD PARK, NY - SEPTEMBER 15: Head Coach Rex Ryan of the Buffalo Bills walks the sidelines in a game against the New York Jets at New Era Field on September 15, 2016 in Orchard Park, New York. (Photo by Tom Szczerbowski/Getty Images)
Rex Ryan's Buffalo Bills fell to 0-2 on the season after a disastrous Thursday night effort saw Ryan Fitzpatrick torch his brother Rob Ryan's defense.
So after saying he'd be the first to go if his team lost earlier in the week, it was offensive coordinator Greg Roman, who helped Tyrod Taylor to one of his best games as a pro, who was canned.
After allowing the Baltimore Ravens to put together over 300 yards of total offense in Week 1, it was the Jets that couldn't stop the run nor the pass in a pretty dominant effort by New York.
And don't get it twisted, Rob Ryan is the same brother who helped deteriorate the New Orleans Saints' unit to the worst passing defense in the NFL last season.