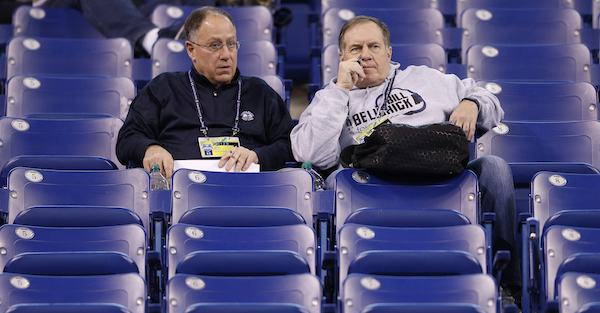 Joe Robbins/Getty Images
INDIANAPOLIS, IN - FEBRUARY 20: New England Patriots head coach Bill Belichick and friend Vinnie Colelli look on during the 2015 NFL Scouting Combine at Lucas Oil Stadium on February 20, 2015 in Indianapolis, Indiana. (Photo by Joe Robbins/Getty Images)
When the Pats missed out on an opportunity to acquire Terelle Pryor from Cleveland, they missed out on a player with the kind of versatility that would fit Bill Belichick's system as perfectly as the last corner piece of a jigsaw puzzle.
Now, in his fifth year in the league, it's only become apparent in the past couple of weeks just how much the former quarterback brings to the table. And just how much he could have opened up a New England offense that's already among the best in football. It's something the organization's brass is still cursing themselves over.
"We blew it," Patriots executive Mike Lombardi told Bill Simmons.  "The league often gives you a chance to be great and if you don't talk advantage of it, it's your own fault and that was one of those times we didn't take advantage of it in New England, clearly. It was all right there in front of us and we didn't make the right decision at that point, but that's life. You move on."
RELATED: Terrelle Pryor thinks the Browns will win the rest of their games and a division rival can't stop laughing
New England made an offer for the 27-year-old last summer, but the Browns turned it down. Although his visit to New England seemed to go well, much to his surprise a deal was never struck.
"I really thought I was going to be a Patriot," Pryor told Cleveland.com. "I know Bill Belichick really liked me. I had a great workout for them and everything went really well. I really thought he was going to sign me."
Pryor was released by Cleveland that fall and remained jobless until the end of the 2015 season when the Browns re-signed him. And now, just last week against the Dolphins, he found his niche.
It came in a losing cause, but Pryor's career day—144 yards on eight catches, four carries for 21 yards and a touchdown, and 3-of-5 passing for 35 yards—illuminates just how vast his skill set is, and how much a team like New England, with maybe the league's most complex system, could get out of maybe the league's most versatile player.