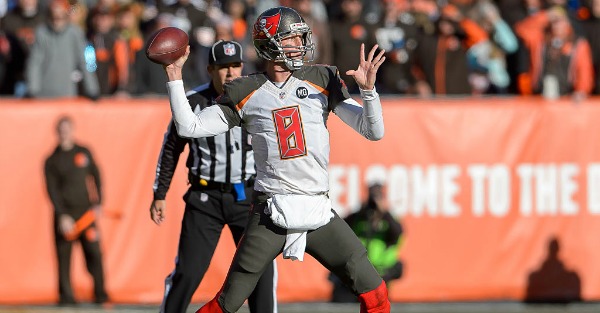 Jason Miller/Getty Images
CLEVELAND, OH - NOVEMBER 2: Quarterback Mike Glennon #8 of the Tampa Bay Buccaneers throws during the second half against the Cleveland Browns at FirstEnergy Stadium on November 2, 2014 in Cleveland, Ohio. The Browns defeated the Buccaneers 22-17. (Photo by Jason Miller/Getty Images) *** Local Caption *** Mike Glennon
The name Mike Glennon as a possible free agent jewel this offseason would likely constitute more than a bit of surprise among football fans.
The third-year quarterback hasn't seen extensive action since the 2014 season when he went 1-4 in five starts with the Tampa Bay Buccaneers, completing 57.6 percent of his passes for 1,417 yards, 1o touchdowns and six interceptions.
But, truth be told, Glennon might have developed into a solid starter with a fair shake, which he never really got with the Bucs. In 18 total starts, he threw for 4,100 yards, 30 touchdowns and 15 picks.
He'll be entering free agency in 2017, and according to ESPN's Field Yates, he could be one of the most attractive quarterbacks on the market. He writes:
"…Tampa Bay has its franchise quarterback in Jameis Winston, so the price the Bucs are willing to pay likely has a ceiling. Meanwhile, the free agent quarterback class looks weak…early evaluation of the 2017 draft class is that the QB's are just ok."
RELATED: Jameis Winston lost his mind during Sunday night football
The 6'7″ second-round pick out of N.C. State, with a cannon for a right arm, was heralded by many as the strongest quarterback in the 2013 draft class. He drew comparisons to Baltimore's Joe Flacco, an exceptionally tall and strong-armed passer with the ability to thrive in a run-based offense, where play action passing could get the most out of his arm.