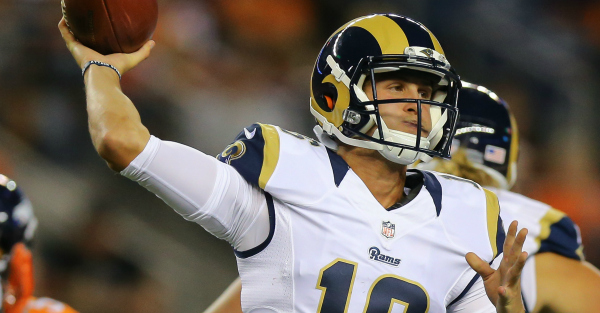 Justin Edmonds/Getty Images
DENVER, CO - AUGUST 27: Quarterback Jared Goff #16 of the Los Angeles Rams throws a pass during the second quarter against the Denver Broncos at Sports Authority Field Field at Mile High on August 27, 2016 in Denver, Colorado. (Photo by Justin Edmonds/Getty Images)
The Rams are about to bring NFL football back to Los Angeles, but they'll be without their top draft pick when they do. Jared Goff, the No. 1 overall pick in this year's draft, is the No. 3 quarterback on the Rams depth chart right now.
It's unusual in the era that's seen QBs from Cam Newton to Andrew Luck to Sam Bradford start in their rookie seasons. Rams head coach Jeff Fisher says he's pleased with the progress Goff has made this preseason but doesn't think he's ready to start.
?I think it?s going to take a bit more time,? Fisher said. ?That?s not to say he can?t be a No. 2 or start, but if we were starting right now, I?d probably have Sean [Mannion] as the No. 2. Because it?s all about being patient with [Goff]."
Giving a year for a top pick to learn, though unusual, has worked before. When the Bengals drafted Carson Palmer in 2003, they kept their No. 1 pick on the sidelines all year and focused on him getting accustomed to the NFL in practice while John Kitna continued to start. Palmer, who's now putting up big numbers in Arizona, helped turned the Bengals into contenders after they had suffered nearly two decades in mediocrity.
Goff, 21, hasn't played the best in preseason. He threw for 232 yards and two touchdowns in four games with two interceptions, two fumbles and four sacks.