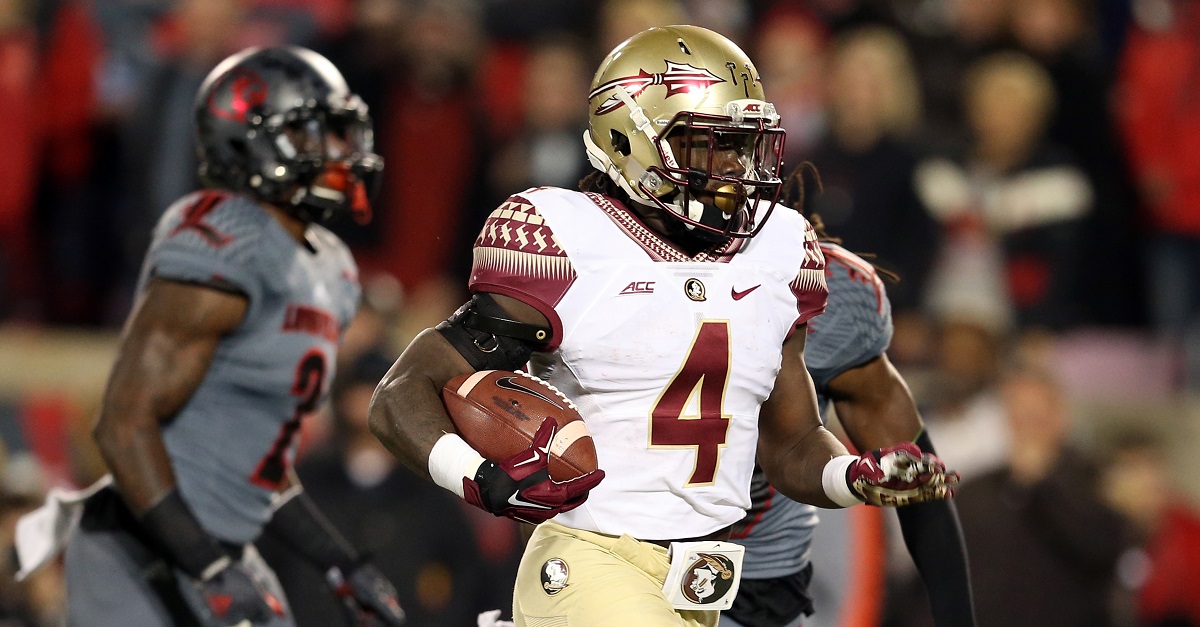 Andy Lyons/Getty Images
LOUISVILLE, KY - OCTOBER 30: Dalvin Cook #4 of the Florida State Seminoles scores a 40 yard touchdown in the third quarter against the Louisville Cardinals during their game at Papa John's Cardinal Stadium on October 30, 2014 in Louisville, Kentucky. (Photo by Andy Lyons/Getty Images)
Former Florida State running back Dalvin Cook was one of the top backs in the country during his tenure with the Seminoles, and his name has been mentioned along with Leonard Fournette and Christian McCaffrey as one of the top backs in the upcoming draft class.
However, Cook's draft stock has been slipping due to off-the-field concerns, and a recent mock draft from Bleacher Report's Matt Miller has Cook falling out of the first round entirely.
Related: NFL scout: Dalvin Cook is worrying GMs more than Joe Mixon is 
Miller has Cook landing with the New Orleans Saints with the No. 42 overall pick in the second round. He has Fournette being drafted at No. 4 by the Jacksonville Jaguars, and McCaffrey coming off the board at No. 14 to the Philadelphia Eagles.
Miller also has troubled former Oklahoma RB Joe Mixon being taken one spot above Cook at No. 41 to the Cincinnati Bengals.
Cook has never been found guilty of a crime, but he has had a few run-ins with the law. He was charged with misdemeanor battery in 2015 but was later acquitted. He was also charged with robbery in 2009 and charged with firing a weapon on school property in 2010, but charges were dropped in both cases.
Cook would have great value in the second round if he falls that far. He's a first-round talent, and he has game-changing ability out of the backfield. But if teams are really concerned about his character, he could find himself falling in the draft into Day 2.
(h/t Bleacher Report)