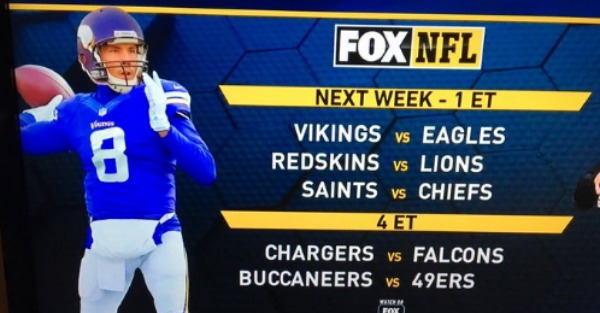 Twitter screenshot
If something looked a little off about about a graphic Fox used during its NFL broadcast Sunday to promote next week's game between the Minnesota Vikings and the Philadelphia Eagles, it wasn't your eyes or even your television set.
it seems the network's production people couldn't find a whole body image of Sam Bradford, so they had to do a quick cut and paste job using Photoshop to superimpose a gigantic picture of Sam Bradford's head over a much smaller image of injured quarterback Teddy Bridgewater's body.
RELATED: Colin Cowherd says this team is the NFL's best
And it didn't go unnoticed. Minnesota's PR people poked fun at the end result in a series of Tweets.
Hopefully the network gets its act together.