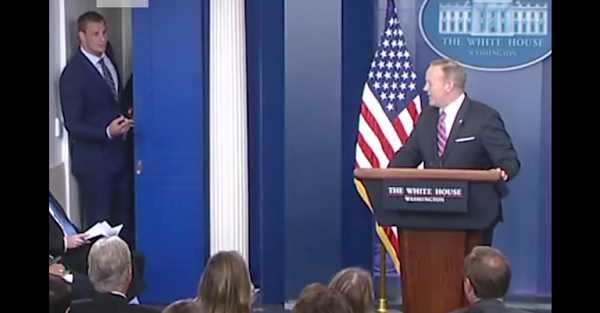 Facebook/CNN
Rob Gronkowski has been crashing a lot of parties lately.
Coming fresh off of two appearances with WWE, Gronk's latest party crashing came at the White House during the New England Patriots' visit to celebrate their win in Super Bowl LI. While press secretary Sean Spicer was addressing the media, Gronk decided to drop by and ask if any help was needed.
Related: Tom Brady the latest athlete to bail on Patriots' White House visit
Spicer didn't accept Gronk's help, but he and the media enjoyed the intrusion nonetheless.
Hopefully the next party Gronk can crash will be in an NFL stadium, as it will be nice to see him back on the field after injuries robbed him of most of the 2016 season and playoffs.