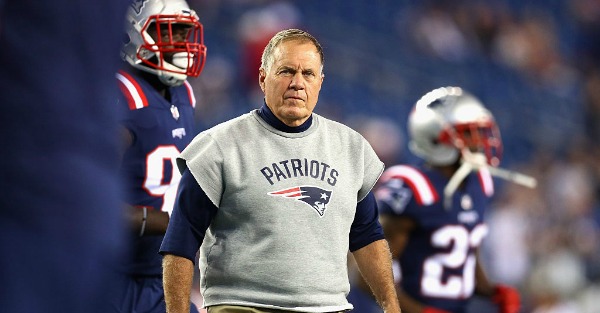 Maddie Meyer/Getty Images
FOXBORO, MA - SEPTEMBER 22: Head coach Bill Belichick of the New England Patriots looks on before the game against the Houston Texans at Gillette Stadium on September 22, 2016 in Foxboro, Massachusetts. (Photo by Maddie Meyer/Getty Images)
NFL analyst Albert Breer is making the sort of claim that many NFL fans would find preposterous.
On his weekly MMQB podcast, Breer opined that in the past five years, the Denver Broncos have eclipsed the New England Patriots as the league's preeminent franchise. And, according to the numbers, he's kinda right.
Since 2012, the Broncos have won more games and taken home one more conference title. although both have won one a Super Bowl in that stretch.
Breer also suggests that success has far less to do with Peyton Manning than many would argue. The Broncos, owners of the NFL's longest winning streak, have done it with four different quarterbacks.
As you can imagine, Breer's position drew some scorn from Pats fans online, who pointed out that Elway took over Denver operations in 2011. After a few adjustments, Breer revised his count to read: Pats 64-20 and Broncos 62-22 since 2011.
RELATED: Dallas police confirm details is Aquib Talib shooting
New England fans are obviously splitting hairs, but Breer's point is a weighty one. Just the fact that Denver is that close to an organization that's hands-down the best is the business, shows that what Elway's accomplished in five to six short years is no small feat. He may be a Hall of Fame quarterback that's taken over the reigns of an organization based in large part on who he is, but he's actually proven to be adept at this thing.
And what he's already managed to build could someday truly succeed the Patriots as the league's gold standard.