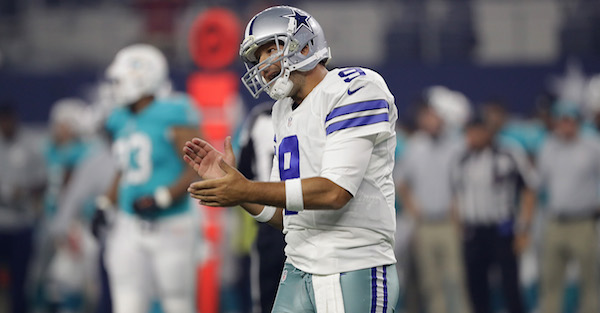 Ronald Martinez/Getty Images
ARLINGTON, TX - AUGUST 19: Tony Romo #9 of the Dallas Cowboys during a pre-season game at AT&T Stadium on August 19, 2016 in Arlington, Texas. (Photo by Ronald Martinez/Getty Images)
If you think the fortune of the Dallas Cowboys is changing anytime soon, don't hold your breath.
RELATED: NFL analyst questions whether Tony Romo will ever see the field again for the Dallas Cowboys
ESPN' SportsCenter  tweeted some rather interesting Cowboys stats that are sure to make the most loyal of fans grab a paper bag.
The first stat documented just how inept the Cowboys are without starter Tony Romo, which was tweeted after they fell to the New York Giants.
Then there is this, more depressing stat—one that would make Jerry Jones roll around in his grave, long before he's even dead.
Ouch. To be clear, that win was in the first game of the 2015 season against the Giants.
Hard to imagine things will change much for the Boys in or outside of 'Jerry World' in 2016.
[h/t FTW]