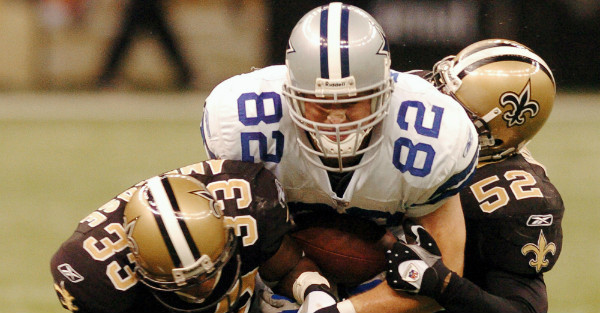 Jason Witten circa 2003 Cowboys v Saints
After a Dallas Cowboys-record 943 career catches and 10 Pro Bowls, Jason Witton is an easy call to make for greatest NFL tight end ever.
Darren Woodson, Cowboys' all-time leader in tackles and a current ESPN analyst, made the call as a teammate back in 2003 during Witten's first training camp.
?I played the nickel and I had to cover receivers and when we did one-on-ones, I?m on the other field with the cornerbacks and the safeties are with the tight ends," Woodson told ESPN. "I?d never come over to cover tight ends. I remember him challenging me, calling me out, ?Hey, you need to come over here. There?s a tight end that can finally run some routes on you.??
Woodson looked at then-defensive coordinator Mike Zimmer.
?Zim?s saying, ?Go get some.? I tell you what, he held his own, man. And from that point on I always came over to cover him because he sharpened my game. I?m always looking to get sharpened, and he and (Tony) Romo together, man, they were monsters in one-on-one. That was an unfair advantage. He was probably a little faster than he is now, but he ran great routes and he was a student of the game. He was always asking the right questions,? Woodson said.
As an analyst, Woodson spends hours pouring over film. Studying every player, every move. He might be a little bias since he was a teammate, but he paid Witten the highest compliment:
?You cannot tell me there?s a better tight end to ever play the game,? Woodson said. ?I look at Tony Gonzalez. He wouldn?t block a soul. A soul. Great, dynamic in the passing game, runs great routes, but won?t block a soul. Antonio Gates, turn the film on of him. He won?t touch a soul. You already know Jimmy Graham won?t block anybody.

?This guy (Witten), not only is he a great pass catcher, but he?ll do everything. He lines up on the edge. He?ll reach block you. He?ll cut you off. He?ll motion in the backfield. He?ll lead draw you as a fullback. He does everything. He?s a complete tight end.?