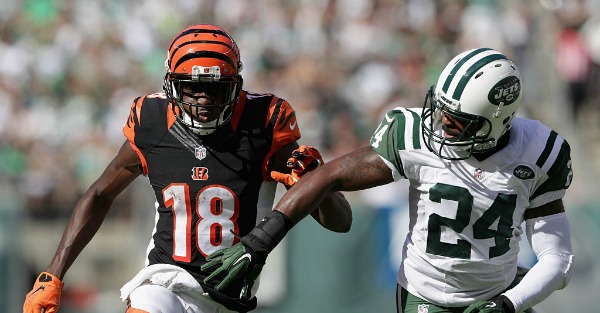 Streeter Lecka/Getty Images
during their game at MetLife Stadium on September 11, 2016 in East Rutherford, New Jersey.
It wasn't so long ago that Darrelle Revis was the NFL's preeminent shutdown corner.
But now at 31, the New York Jets veteran admits his body is beginning to show the signs of a decade-long career in arguably the world's most brutal sport — and decline might not be so far off.
?My body?s breaking down,? Revis told Newsday recently. "I mean, not in a bad way. I can still play. It?s just, I?m breaking down. I?m 31. How many corners are 31 right now in the league? The league?s getting younger. I know [Vikings cornerback Terence] Newman?s still playing [at 38], which is impressive. But I don?t know how he?s doing it.?
Once feared by wide receivers and coaches alike, Revis says things like nagging pain and longer injury recovery periods are catching up with him, but the notion of retirement has yet to cross his mind.
?I?m not thinking about retirement at this moment,? he said. ?I?ve just got to continue to take care of my body. Some of the past injuries, they linger. They linger.?
The beginning of Revis' 2016 season certainly prompted whispers around the league that he was no longer the player known as a one-man island, that could make any receiver in the league a non-factor. Bad showings in weeks 1 and 2, in which he got smoked by A.J. Green and Marquise Goodwin, led to a hamstring injury that's seen him hobble in and out of the lineup over the past month.
RELATED: The latest news out of New York makes Joe Namath look like even more of a jerk
But in games against the Cardinals and the Ravens in Weeks 6 and 7, Revis has had a bit of a resurgence. He held Larry Fitzgerald to six catches for 49 yards, helping New York shutdown Joe Flacco to the tune of just 48 second half passing yards in a 24-16 victory. He calls it "getting his rhythm," and it comes at a really good time.
At 3-5 and last place in the AFC East, with division showdowns making up half of the Jets' remaining schedule, the time for a turn around is running thin.