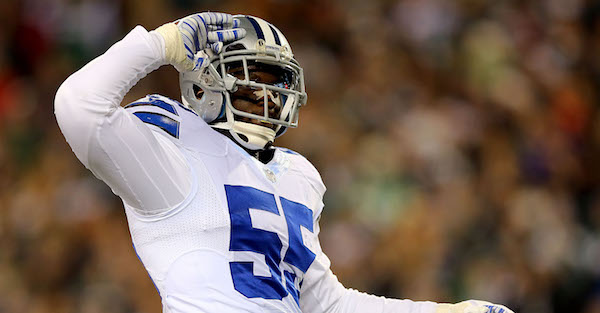 PHILADELPHIA, PA - DECEMBER 14: Rolando McClain #55 of the Dallas Cowboys reacts during the game against the Philadelphia Eagles at Lincoln Financial Field on December 14, 2014 in Philadelphia, Pennsylvania. (Photo by Elsa/Getty Images)
After his second suspension in as many years, Rolando McClain is reportedly in danger of missing more than the 10 games he's slated to miss after a substance abuse violation.
Related: Cowboys' depth receives another huge hit with this terrible news
He could be released from his contract, per WFAA's Mike Leslie:
McClain is under a one-year, $1.25 million contract and he'll miss more than half of the team's games assuming a Super Bowl run isn't in the team's cards.
In five seasons, McClain has registered 407 tackles, 9.5 sacks, two forced fumbles and four interceptions.