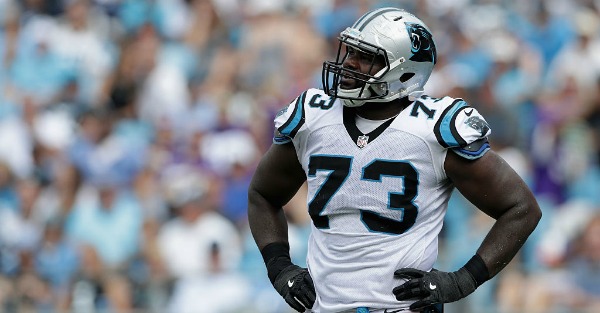 Streeter Lecka/Getty Images
during their game at Bank of America Stadium on September 25, 2016 in Charlotte, North Carolina.
Michael Oher is still in the NFL's concussion protocol since suffering a concussion way back in Week 3 against the Minnesota Vikings.
The Carolina Panthers tackle is reportedly making steady progress and has been working out, but after eight seasons in the NFL, his future may be in question.
Panthers general manager Dave Gettleman has been tight-lipped about Oher's situation.
"I haven't spoken to Michael in a little bit," Gettleman told the Charlotte Observer last week at Senior Bowl practices in Mobile, Ala."I haven't texted with him in a little bit. I want to back off and leave him alone. Because we want what's best for Michael, really and truly."
According to the Observer, the 30-year old Oher was still experiencing serious symptoms as recently as November. Among them were a sensitivity to light and issues issues involving his vestibular ocular system, which is responsible for integrating vision, movement and balance.