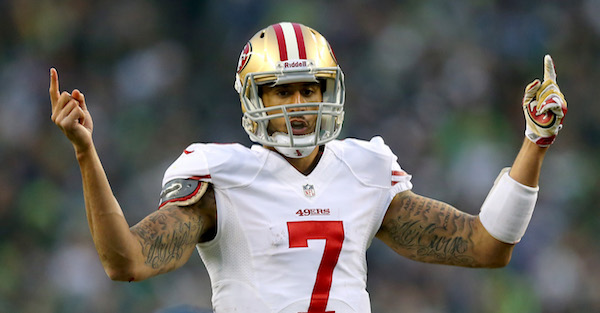 Ronald Martinez/Getty Images
As the April 1 deadline for Colin Kaepernick's 2016-17 salary of $11.9 to be guaranteed inches closer by the day, the pressure has become even greater for a team to step up and make a deal for the San Francisco 49ers quarterback.
According to Benjamin Allbright, Kaepernick landing with the Denver Broncos isn't a matter of if, it's a matter of when:
That's good news for Broncos fans, whose quarterback options are currently Mark Sanchez and former Northwestern quarterback Trevor Simian. With not much left on the free agency market, and no real projected game-changer where Denver is drafting, Kaepernick is the best option for the defending champs.
The Broncos and Browns have reportedly explored trade talks with the 49ers. Cleveland reportedly settled on a third-round pick for compensation, but wouldn't take Kaepernick on his bloated contract, opting to restructure — something the quarterback understandably wouldn't budge on.
Denver reportedly eyes Kaepernick as worth fourth-round selection, and nothing more.
Who budges first remains to be seen, but time is certainly running out to make a deal.