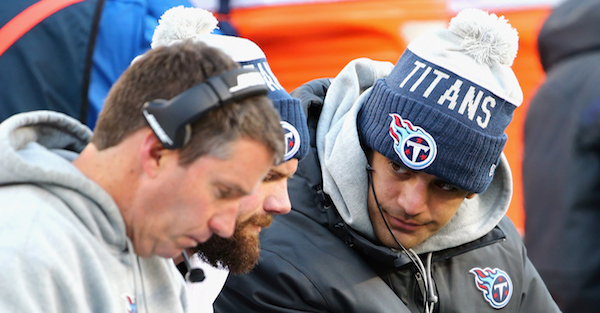 Maddie Meyer/Getty Images
FOXBORO, MA - DECEMBER 20: Marcus Mariota #8 of the Tennessee Titans (R) sits on the sideline during the game between the New England Patriots and the Tennessee Titans at Gillette Stadium on December 20, 2015 in Foxboro, Massachusetts. (Photo by Maddie Meyer/Getty Images)
Everyone thinks they can out-coach an NFL coach. How many times have you called the play-callers of your favorite team names because their calls failed to produce anything positive? Tennessee Titans fans may have the biggest gripe of anyone after the team's first preseason contest.
RELATED: Derrick Henry has a big day at Titans scrimmage with help from former Tide teammates
Coach Mike Mularkey confirmed the team auctioned off the plays, which generated $20,000 for the Make a Wish Foundation. Not only that, the two plays generated a combined 46 yards–a 15-yard run from Demarco Murray and a 31-yard completion from Marcus Mariota to Tajae Sharpe. Wouldn't you know the offense stalled right after that?
It's not all bad, as the Titans rolled over the Chargers 27-10, but there's something to be said when your fans seem to be better play-callers than your coaching staff.