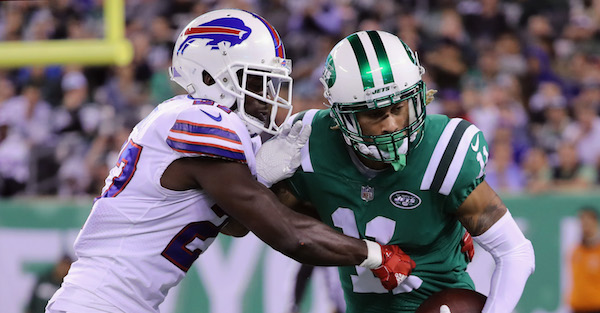 Abbie Parr/Getty Images
EAST RUTHERFORD, NJ - NOVEMBER 02: Wide receiver Robby Anderson #11 of the New York Jets runs the ball against cornerback Tre'Davious White #27 of the Buffalo Bills during the first half of the game at MetLife Stadium on November 2, 2017 in East Rutherford, New Jersey. The New York Jets won 34-21. (Photo by Abbie Parr/Getty Images)
The New York Jets have been better than expected this season and one reason for their (relative) success has been the play of wide receiver Robby Anderson. Before 2017, he was virtually unknown outside of die-hards, but the 24-year-old from Temple has compiled 41 catches for 714 yards and seven touchdowns on the way to nationwide relevance.
On Sunday, the Jets fell short in an upset bid against the Carolina Panthers but, within the loss, Anderson scored two touchdowns and really appeared to enjoy the second one. So much, in fact, that Anderson took the opportunity to preen for the camera and request Pro Bowl votes from the public.
That did not go over well.
First, Anderson was called out on the air by FOX analyst Chris Spielman.
For full context, Rich Cimini of ESPN captured Spielman's comments.
"How about we worry about outscoring somebody in the fourth quarter and you focus on this game instead of campaigning for Pro Bowl votes? Let's try that first."
Then, following the game, Jets head coach Todd Bowles was prompted about Anderson's actions and he described them as "selfish" while deriding his stud wide receiver.
"I didn't see it, but if that's true, that's not smart football. We don't want selfish players on this team doing selfish things."
It is not shocking to see an NFL coach not take kindly to this particular act but, in the grand scheme of things, it feels like an overreaction from both Spielman and Bowles. Anderson was fairly clearly having fun while performing at a very high level and, in short, the public rebuke doesn't really fit the "crime" perpetrated in this spot.