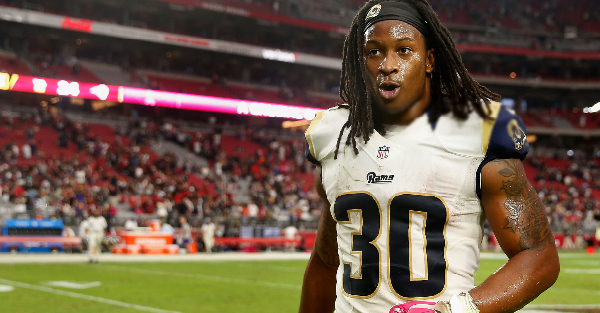 Christian Petersen/Getty Images
GLENDALE, AZ - OCTOBER 04: Running back Todd Gurley #30 of the St. Louis Rams walks off the field following the NFL game against the Arizona Cardinals at the University of Phoenix Stadium on October 4, 2015 in Glendale, Arizona. The Rams defeated the Cardinals 24-22. (Photo by Christian Petersen/Getty Images)
In the midst of his worst year as a pro, fantasy football fans are furious.
One specifically called out Gurley and challenged him to a fight. The Los Angeles Rams running back had no problem chirping back:
Todd Gurley's sophomore campaign has been a struggle of epic proportions, as the standout running back has run for just 778 yards and five touchdowns in 14 starts this season.
He rattled off over 1,100 yards and 10 touchdowns in just 12 starts last year. His yards per attempt is down a full yard and a half and his yards per game plummeted from 85.1 last year to 55.6.
Gurley hasn't rushed for more than 100 yards once this season. He's eclipsed 50 yards just eight times, with a season-high of 85 yards.
Last season, he had games of 89, 128, 133, 140, 146 and 159 yards. He also had duds, such as his nine-yard performance against Pittsburgh and 19 yards against Cincinnati.
Los Angeles has struggled with offensive consistency both of the last two years, and that unquestionably affects Gurley's production. Whoever the next head coach is will need to develop and bring in top talent to surround the elite running back.
Otherwise, his career may never reach its true potential.