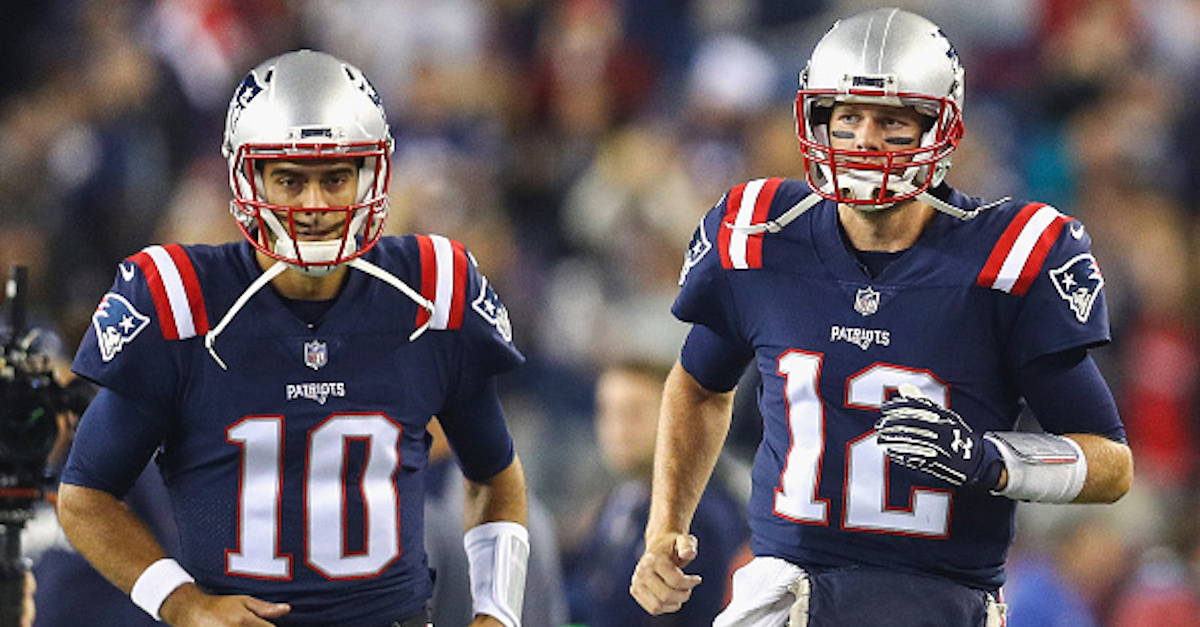 Maddie Meyer/Getty Images
Photo by Maddie Meyer/Getty Images
Jimmy Garoppolo is 4-for-4 as a winner in the starts he's had so far for the San Francisco 49ers, and while he's certainly making many fans in the bay area — he has one notable fan out east as well.
That is, if you believe what Tom Brady had to say about his former backup quarterback. Brady, speaking to WEEI, mentioned the fact that he's very happy for Garoppolo:
?He?s done a great job," Brady said. "You go in there and get the opportunity to play and win games, that is what we are all here for. It was good to see and good for them to beat Jacksonville, that really helped us. I am really happy for Jimmy and he?s worked really hard. It shows up when he goes out there and plays really well.?
Garoppolo has been terrific for the 49ers since taking over, which shouldn't be a surprise to those who watched him in New England. He filled in admirably for Brady at times in his backup stint, leading the Patriots to multiple games, so the fact that he's crushing it as "the guy" in San Francisco seems to be par for the course.
The former Patriots' quarterback has apparently credited his time in New England for his current success, but Brady thinks he's being too humble:
?It?s really a credit to him," Brady said. "You do what you can with the opportunities you get. I think it is great for any player and anyone who has been in the Patriots system to watch how the coaches prepare the players. There is obviously a high standard and high expectations for us every time we take the field. Anytime you?re in a winning environment, that definitely helps and I think guys really enjoy that. You take what you can and use that in other places if that is where you go. Like I said, what they are doing is a credit to them. I don?t think anyone should take credit for what those guys have accomplished.?
Garoppolo has completed 100-of-145 passes so far for San Francisco for 1,268 yards, five touchdowns, and three interceptions. Most importantly, he has the 49ers on an improbable four-game win streak.
Garoppolo was traded to the 49ers in September for a second-round pick.