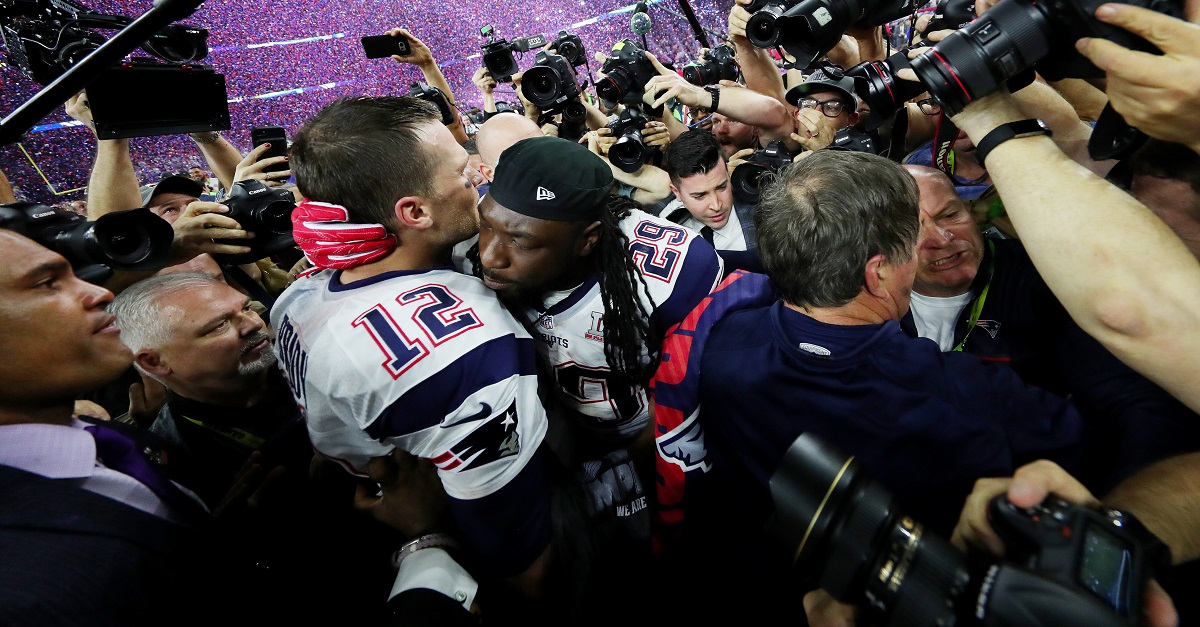 Tom Pennington/Getty Images
HOUSTON, TX - FEBRUARY 05: Tom Brady #12 and LeGarrette Blount #29 of the New England Patriots celebrate after defeating the Atlanta Falcons 34-28 during Super Bowl 51 at NRG Stadium on February 5, 2017 in Houston, Texas. (Photo by Tom Pennington/Getty Images)
Tom Brady's fifth Super Bowl victory cemented his legacy as the most accomplished football player of all-time, but Brady apparently doesn't think about his legacy.
Related: Joe Montana was asked if Tom Brady is the greatest of all time, and his answer is certainly surprising
During an appearance on PFT Live, Brady said he isn't concerned with how he measures up historically.
?None of those things have ever mattered to me and it?s just ? it?s hard for those things to even take up any space in my mind because they?ve never been of significance to me,? Brady said. ?There have been so many great players that I?ve played with, that I?ve played against over the years.?
Brady won his fifth ring after making the greatest comeback in Super Bowl history. Playing for the New England Patriots and Bill Belichick has contributed greatly to his success, and he said his situation was better than most players in the league.
?Everyone is different, everyone has different teams they?ve played on, coaches they?ve played for,? Brady said. ?I?ve been so blessed to play for the greatest coach at a time when our organization has done incredible things. I?ve played with the best teammates. Playing for Mr. Kraft and what his influence on the team has been. So I think there are so many players that if they were in my position and had all the opportunity I did, they would, I believe, accomplish so many of the same things.
?I just love working hard, I love being part of a team, I love working toward a common goal. Being on the bus ride after the games, being in the team pictures, that?s what you?ll miss.?
Brady can further his legacy with the Patriots next season. The Pats are favored to win the Super Bowl once again.
(h/t Pro Football Talk)