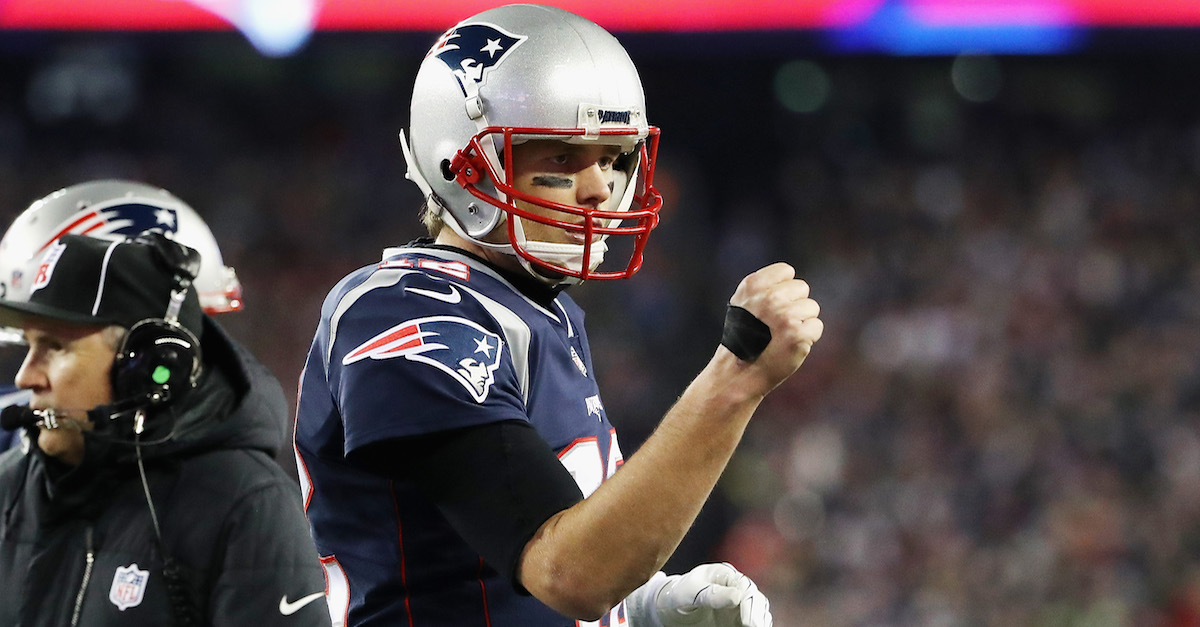 Elsa/Getty Images
FOXBOROUGH, MA - JANUARY 21: Tom Brady #12 of the New England Patriots reacts after a touchdown in the fourth quarter during the AFC Championship Game against the Jacksonville Jaguars at Gillette Stadium on January 21, 2018 in Foxborough, Massachusetts. (Photo by Elsa/Getty Images)
New England Patriots quarterback Tom Brady is set to appear in his eighth Super Bowl. But apparently there's one person who had hoped for him to retire after last year's championship win.
Brady's wife, supermodel Gisele Bündchen, reportedly tried to get former NFL kicker and CBS Sports reporter Jay Feely to convince her husband to retire during the offseason, according to Greg Bishop of Sports Illustrated (H/T Darren Hartwell of NESN).
"Last spring Brady and his family vacationed with retired kicker Jay Feely, a close friend from their college days at Michigan," Bishop said. "This being Brady, Feely prefers not to disclose the locale, but he does share that Brady?s wife, the supermodel Gisele Bundchen, spent time on that trip 'trying to get me to convince (Tom) to stop playing.' And, Feely adds, 'she was dead serious.'"
Despite Brady being one of the most durable quarterbacks in the league, perhaps his wife knows more than the rest of us.
Bündchen infamously claimed that her husband played through concussions during the 2016 season in May, despite having never been listed as having one on an injury report.
Brady played through a hand injury last week to lead New England to its eighth Super Bowl appearance and AFC championship, improving his career playoff record to 27-9.
Considering Brady is already the most decorated quarterback in the history of the NFL and is 40 years old, it's no surprise that his wife would be concerned about his health, especially if the quarterback makes good on his prediction to play into his mid-40's.