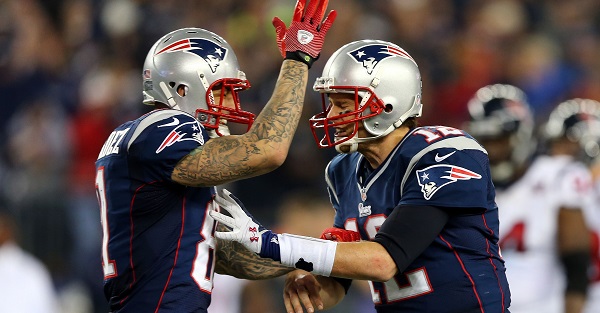 Elsa/Getty Images
FOXBORO, MA - JANUARY 13: Aaron Hernandez #81 and Tom Brady #12 of the New England Patriots celebrate after a touchdown in the fourth quarter against the Houston Texans during the 2013 AFC Divisional Playoffs game at Gillette Stadium on January 13, 2013 in Foxboro, Massachusetts. (Photo by Elsa/Getty Images)
Aaron Hernandez's suicide is the biggest story in the sports world this week and, even if his representation seems to be pushing back on the notion that the former New England Patriots and Florida Gators tight end took his own life, his passing is what we are left with. With that in mind, the two most prominent teammates in Hernandez's football career, Tom Brady and Tim Tebow, exchanged concerns about Hernandez.
Roger Simmons of the Orlando Sentinel brings word that Brady once told Tebow about his concerns and they can be seen as part of an NFL.com video (via NFL Films Sound FX) from Dec. 18, 2011.
?…I?m trying to watch over Aaron and Brandon,? Brady tells Tebow.

?I appreciate that, too, man. They?re good guys,? Tebow responds.

?[Yeah] they?re a lot to handle,? Brady says.
While this one exchange is not some sort of bombshell, the tone is clear that the two men had something of a common bond with regard to Hernandez. There are many stories from former teammates concerning Hernandez's pattern of behavior and general mental state but, considering what transpired, it isn't crazy to pour over them to see what kind of insight may pop out and provide perspective.