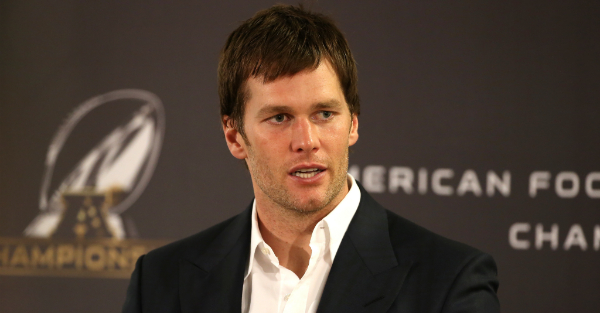 DENVER, CO - JANUARY 24: Tom Brady #12 of the New England Patriots speaks in a post game press conference after being defeated by the Denver Broncos in the AFC Championship game at Sports Authority Field at Mile High on January 24, 2016 in Denver, Colorado. The Broncos defeated the Patriots 20-18. (Photo by Doug Pensinger/Getty Images)
Tom Brady and his defense team are refusing to back down against his DeflateGate suspension, for the second time appealing a ruling that would require him to sit out the first four games of the season, via Brian McBride:
"The facts here are so drastic, and so apparent, that the court should rehear it," Olson said.

Olson said NFL Commissioner Roger Goodell fumbled the case, adding that he "completely ignored the schedule of penalties for equipment-related violations," which could have resulted in nothing more than a fine."
Brady is taking his appeal to the 2nd U.S. Circuit Court of Appeals after the quarterback was hit with a four-game suspension, appealed the decision and won. Then the NFL appealed, had the decision reversed and here we stand.
According to Pro Football Talk, this is the first step in Brady possibly being able to play through his suspension without a decision being made. If Brady asks for a stay, and his request is denied, he could appeal to the Second Circuit justice, Ruth Bader Ginsberg. If she issues the stay, Brady then could possibly play the entire 2017 season without serving his suspension.
Related: Watch Roger Goodell laugh about Tom Brady's DeflateGate suspension
Brady allegedly was aware of the deflating of footballs ahead of the team's AFC Championship game two years ago. The Patriots were hit with stiff fines that included a $1 million penalty and multiple draft picks taken away. Patriots staff members were also suspended stemming from the incident.
The only member of the Patriots that hasn't served the penalties handed down is Brady.