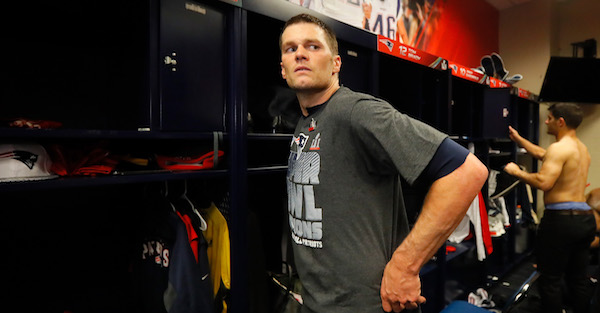 Kevin C. Cox Getty Images
HOUSTON, TX - FEBRUARY 05: Tom Brady #12 of the New England Patriots celebrates in the locker room after defeating the Atlanta Falcons during Super Bowl 51 at NRG Stadium on February 5, 2017 in Houston, Texas. The Patriots defeated the Falcons 34-28. (Photo by Kevin C. Cox/Getty Images)
Add Tom Brady to the powerful New England Patriots voices who doesn't believe skipping an upcoming White House visit is a big deal.
The Patriots, coming off their historic Super Bowl LI win, have made headlines recently as players have announced they will not attend the traditional White House visit (whenever it's scheduled) because they oppose President Trump.
RELATED: Here's why Patriots players say they'll skip the White House visit.
On Monday, New England's owner, Robert Kraft, called players skipping the visit a non-issue and noted everyone has the right to decide what they want to do. And on Tuesday, Tom Brady echoed those sentiments.
"Everybody has their own choice. There's certain years, like a couple years ago, I wanted to go and didn't get the opportunity based on the schedule — we didn't get told until I think like 10 days before we were going, and at that point I had something I'd been planning for months and couldn't get there."
Brady not only leads on the field, but off of it.