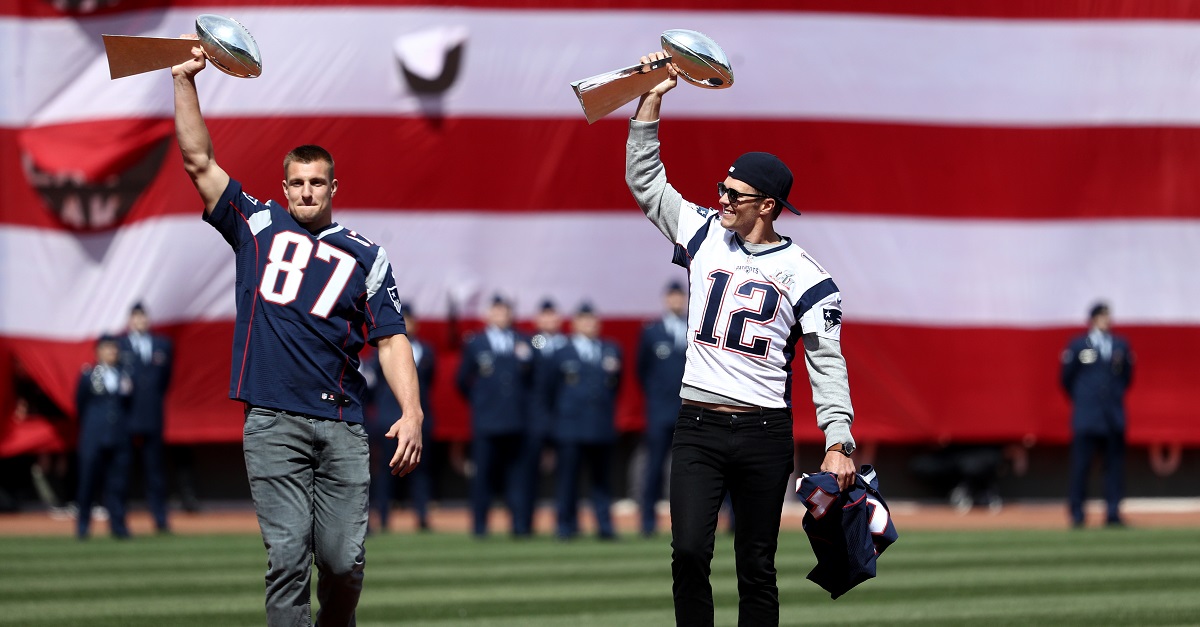 Maddie Meyer/Getty Images
BOSTON, MA - APRIL 3: Rob Gronkowski #87 and Tom Brady #12 of the New England Patriots enter the field carrying Vince Lombardi trophies before the opening day game between the Boston Red Sox and the Pittsburgh Pirates at Fenway Park on April 3, 2017 in Boston, Massachusetts. (Photo by Maddie Meyer/Getty Images)
Tom Brady is not exactly beloved in the city of Pittsburgh.
That comes with the territory given the fact that Brady is arguably the greatest quarterback in the history of the NFL and part of his legacy has been built in toppling the Pittsburgh Steelers. It would be unfair to suggest that Brady is in a class by himself in terms of hatred from fans in the city but, at the very least, the legendary signal-caller would be on the short list.
Now, fans from the city have even more reason to dislike "Tom Terrific" and it stems from a triumph in a different sport altogether.
The Pittsburgh Penguins claimed the 2017 Stanley Cup and the photo above displays Brady coming in contact with it. The good folks of All 22 bring word that Brady was able to touch the cup during a party hosted by Penguins? co-owner Ron Burkle in California but, regardless of context, Pittsburgh fans are steaming mad.
In the grand scheme, this really doesn't matter much but the Stanley Cup is treated with respect at the highest level among hockey fans and the Penguins faithful want no part of Brady's mojo rubbing off on their trophy. The responses are certainly amusing but the hate is quite real.