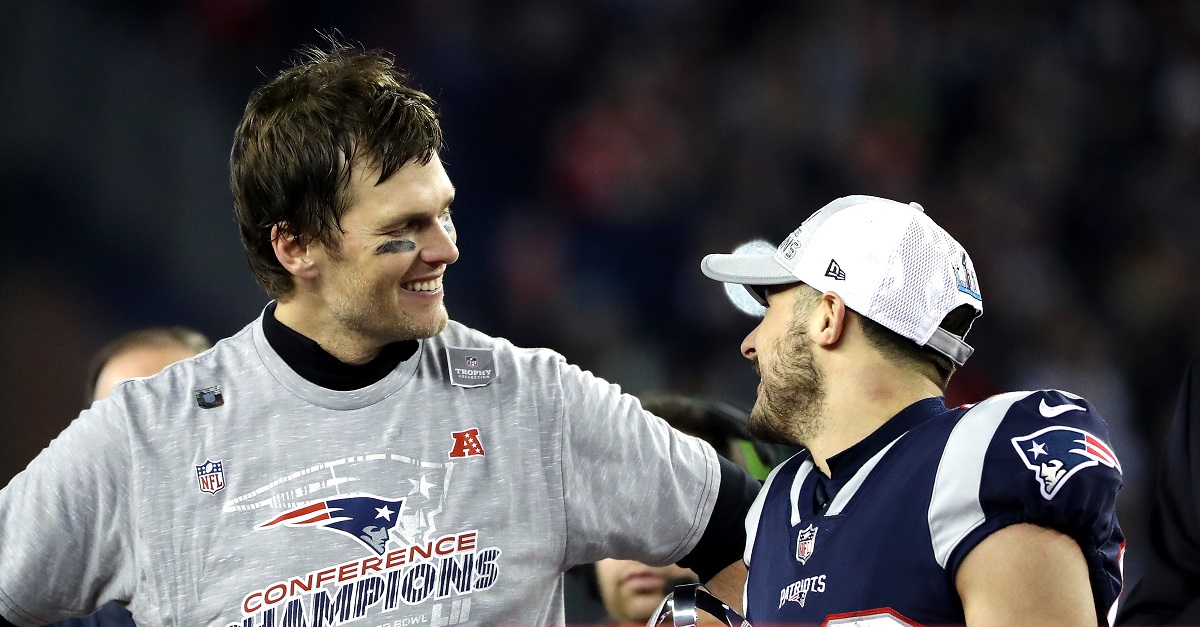 Elsa/Getty Images
FOXBOROUGH, MA - JANUARY 21: Tom Brady #12 of the New England Patriots celebrates with Danny Amendola #80 after winning the AFC Championship Game against the Jacksonville Jaguars at Gillette Stadium on January 21, 2018 in Foxborough, Massachusetts. (Photo by Elsa/Getty Images)
We all know by now that you can't count out Tom Brady from being able to accomplish anything these days. That includes becoming the oldest player to do anything, especially if he continues to play as well as he has after turning 40 this season. Now, he's going to break a Super Bowl record previously held by San Francisco thanks to his "advanced" age. 49ers great Jerry Rice.
When Rice played in Super Bowl XXXVII for the Raiders he was 40 years and 105 days old while Brady will be 40 years and 185 days old. This is of course a record for non-kickers as just last year Atlanta's Matt Bryant was 41 and Matt Stover was 42 when he kicked for the Colts in Super Bowl XLIV.
If Brady keeps playing at a high level for the next few years, he could surely take over the record and leave that pesky "non-kicker" tag off the next time he comes back.
[h/t Pro Football Talk]