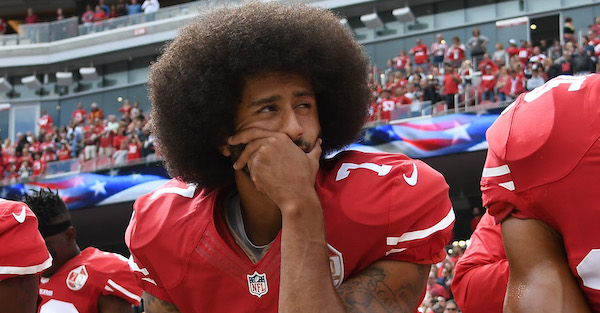 Photo by Don Juan Moore/Getty Images
SANTA CLARA, CA - OCTOBER 02: Colin Kaepernick #7 of the San Francisco 49ers kneels on the sideline during the anthem prior to the game against the Dallas Cowboys at Levi's Stadium on October 2, 2016 in Santa Clara, California. (Photo by Thearon W. Henderson/Getty Images)
Tom Coughlin is known as the former Super Bowl winning head coach of the New York Giants, but he's already making some major splashes in his new role as executive vice president of football operations for the Jacksonville Jaguars.
Coughlin is an old-school, no nonsense football coach. He doesn't tolerate lateness, he believes in scheduling his life out — even a year in advance — and who are we to say his methodologies don't work? After all, he has won two Super Bowls.
Here's Ryan O'Halloran passing on the quotes on why Coughlin passed up on Kaepernick:
That's as Coughlin-like a quote as you'll find, though it's pretty unclear what study and research the Jags' EVP is talking about.
Frankly, it sounds like he's speaking a bit more about studying and researching fan reaction to the signing of Kaepernick because those really aren't two football terms. If he was speaking about Kap as a quarterback he likely would have talked about film or scouting.
Study and research sounds a bit more social, doesn't it, which would lead one to believe that the Jags are on the long list of teams avoiding Kaepernick because of the backlash signing him would cause.
For as blunt as this is at the very least we know where the Jaguars stand, and why.
That's likely why the Jaguars tagged Coughlin for the position, the lack of nonsense in the way he goes about things. Jacksonville can use someone like that in the front office making football decisions, and though at times it may seem crass or cold-hearted, it has ultimately proven to be an effective way to run a football organization.
That's not going to make Colin Kaepernick fans feel any better about Coughlin's recent thoughts on the matter, though.