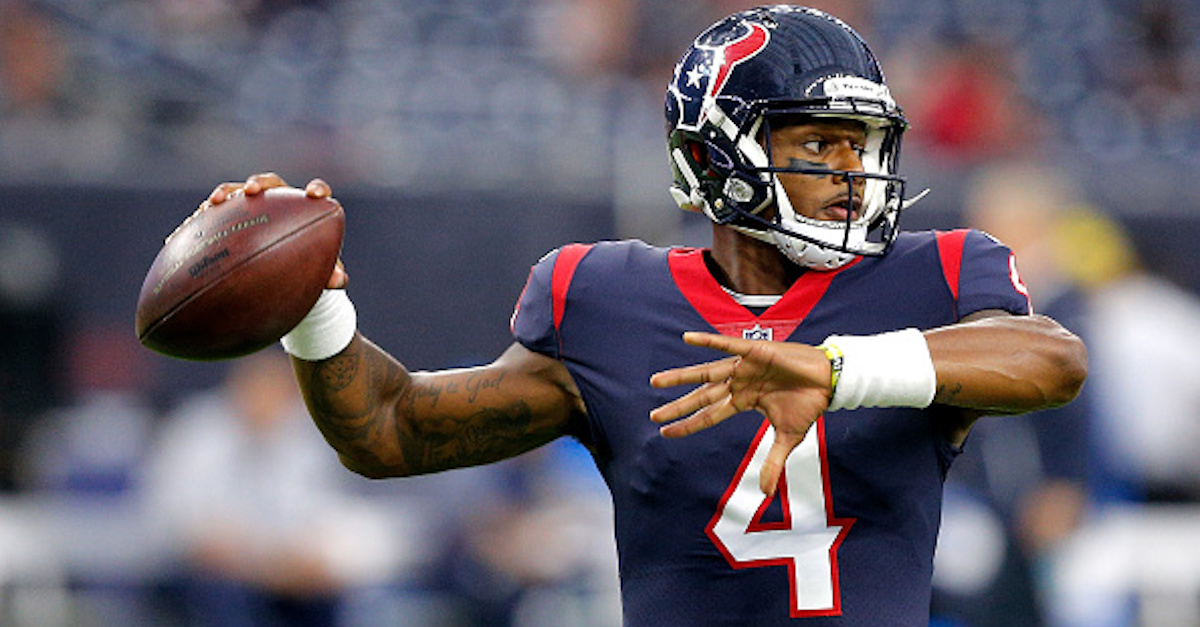 Bob Levey/Getty Images
HOUSTON, TX - AUGUST 19: Deshaun Watson #4 of the Houston Texans throws a pass as he warms up to play the New England Patriots in a preseason game at NRG Stadium on August 19, 2017 in Houston, Texas. (Photo by Bob Levey/Getty Images)
Deshaun Watson enters his first season as an NFL quarterback with plenty of high expectations. He's a former National Championship winning quarterback and he was a Heisman Trophy contender during his time with the Clemson Tigers, so it makes sense that people are high on him.
With that said, expectations may have to be tempered a bit heading into the 2017 season, because for all intents and purposes Watson will be heading into Week 1 as a backup.
Here's NFL reporter Aaron Wilson, passing on quotes from Houston Texans head coach Bill O'Brien.
This is a slightly surprising move from Houston considering the fact that Tom Savage isn't necessarily Tom Brady (or at least he isn't yet) but it's pretty clear from this announcement that O'Brien and the Houston staff believes that Watson still needs some more time to develop, and that's okay. Frankly, it's probably the better thing for Watson and the Texans in the long run. Fans may not like it as much because Watson's athleticism and ability probably give Houston the best chance, but it takes time to become a true starting NFL quarterback, and sitting on the sideline and learning while you get comfortable is not a bad thing.
Aaron Rodgers sat behind Brett Favre for a while and look how that played out for the Packers. Of course, Savage is no Favre and Watson may never be Rodgers-esque, but there is conventional wisdom in not throwing a rookie quarterback to the wolves right away and instead letting him learn and get comfortable.
It doesn't even have to be for a whole season, just long enough to get Watson caught up to the speed of the NFL game.
Savage has played in five games in two seasons for Houston, starting two in 2016. He's completed 56-of-92 passes for 588 yards, no touchdowns, and one interception.
Watson was drafted No. 12 overall in the 2017 NFL Draft. In three seasons at Clemson, he threw for 10,168 yards and 90 touchdowns compared to 32 interceptions. He also rushed for 1,334 yards and 26 touchdowns on the ground.