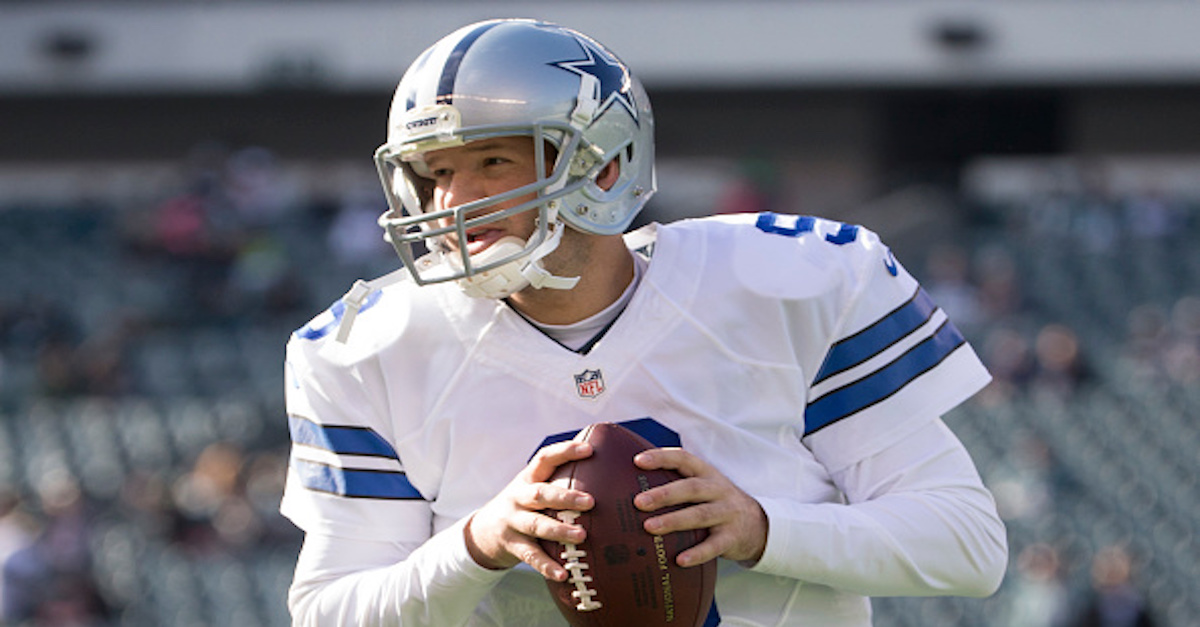 Mitchell Leff/Getty Images
PHILADELPHIA, PA - JANUARY 1: Tony Romo #9 of the Dallas Cowboys warms up prior to the game against the Philadelphia Eagles at Lincoln Financial Field on January 1, 2017 in Philadelphia, Pennsylvania. The Eagles defeated the Cowboys 27-13. (Photo by Mitchell Leff/Getty Images)
Can you imagine Brett Favre playing for the Dallas Cowboys and Tony Romo playing in Green Bay instead of suiting up for Big D? NFL history as we know it could have dramatically shifted if that was the case, and as one story goes, that could have actually been the case.
Former ESPN reporter Ed Werder was speaking on his podcast with DallasNews.com columnist and fellow co-host Matt Mosely. Werder was apparently re-telling a story of when he played golf with Romo before he was a famous, big-time quarterback for the Cowboys, and some very interesting trade talk came up. This was transcribed by Will Brinson of CBS Sports:
He talked about during the round about how the Cowboys had had an interest in trading for Favre late in his career when he was available, [Bill] Parcells was the coach.

I said, "Oh yea, I kind of heard that."

And he said, "Well you know, the deal went dead when the Packers asked for me to be in the trade."

And now I'm like, "Oh really the Cowboys didn't trade for Favre because they didn't want to give you up?" And maybe it was true as it turns out, right? He was good enough as it turns out! He had a hell of a good career!
Brinson goes on to make an educated guess regarding when this potential trade deal was on the table. The time from 2003-2006 makes the most sense, per Brinson. Bill Parcells was coaching the Cowboys and Tony Romo was an undrafted free agent with a lot of untapped and unknown potential. Favre, on the other hand, was starting to near the twilight of his career, but there was still a lot left in the gas tank, as history went on to prove. The Cowboys were apparently unwilling to part ways with Romo, though, and the Packers went on to draft Aaron Rodgers in the 2005 NFL draft.
Favre was traded to the New York Jets in 2008 after a long, drawn out retirement saga with the Packers, and the rest is NFL history as we know it.
Brinson has the timeline of the potential trade talk pegged as happening in the offseason of 2005.
So, yeah the offseason following 2005 would make a lot of sense. Favre was coming off a season where, at the age of 36 he led the league in passing attempts (607), interceptions (29) and only threw 20 touchdowns. The Packers won four games and people were wondering how much he had left in the tank. Green Bay would ultimately draft Rodgers that summer.
Had the Packers traded Favre for Romo, there's no telling how that would have impacted the NFL. For one, Rodgers would likely be tearing it up for some other NFL franchise, and that would have dramatically shifted the sport's landscape.
Could Favre have led Dallas to a Super Bowl? He never had great luck playing in a dome, but it may have been different with him on the home sideline. Was Romo good enough at the time to replace a legend in Green Bay? That was something even Rodgers struggled with at times, though he's as poised as they come. Would Packer Nation have accepted Romo like they eventually accepted Rodgers?
Could Romo have led the Packers to a Super Bowl win and put up an MVP season while in the Green and Gold?
These are questions that don't have answers and they never will. That doesn't make them any less fun to think about, though.