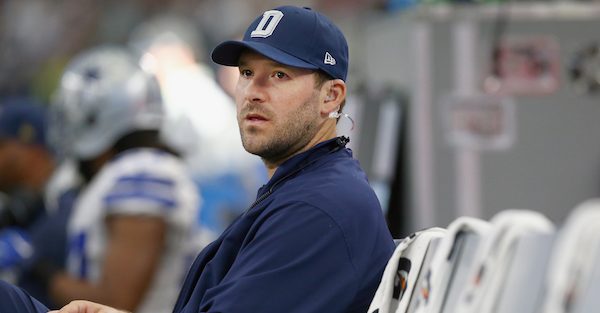 Photo by Tom Pennington/Getty Images
ARLINGTON, TX - JANUARY 03: Tony Romo #9 of the Dallas Cowboys sits on the bench late in the fourth quarter as the Washington Redskins beat the Dallas Cowboys 34-23 at AT&T Stadium on January 3, 2016 in Arlington, Texas. (Photo by Tom Pennington/Getty Images)
Former NFL quarterback Tony Romo has retired in favor of the broadcast booth, and for all intents and purposes, he should have a long, vibrant career as a television personality.
Remember, this is the same Tony Romo who at one point dated Jessica Simpson, so he's no stranger to the big screen. He also seems to have a pretty good personality, so it's going to be interesting to see how he translates to the television booth instead of the football field.
With that said, Romo apparently almost didn't hang up his cleats this season. Neil Best of Newsday is reporting that at one point, the New York Jets were a potential landing spot for Romo.
The Jets, currently coached by Todd Bowles, have had flashes of competency in the past, but overall they haven't been a shining example of greatness in NFL circles.
Are they the Clevland Browns or Detroit Lions? No. But for a quarterback already nearing the end of his career with a history of some pretty nasty injuries, would playing for an organization that went 5-11 last season and doesn't have a history of competency really make much sense?
Had this been the Patriots or the Packers, one would have a hard time blaming Romo, even if he decided to go collect a paycheck as a backup behind Aaron Rodgers or Tom Brady. And to be frank, he'd likely be the starter for the Jets come week one and he could have even done some nice things for the team.
But again, would it have been worth it?
Ultimately, Romo obviously decided no. Ultimately, that was probably the best choice for his career, as well as his long-term health.