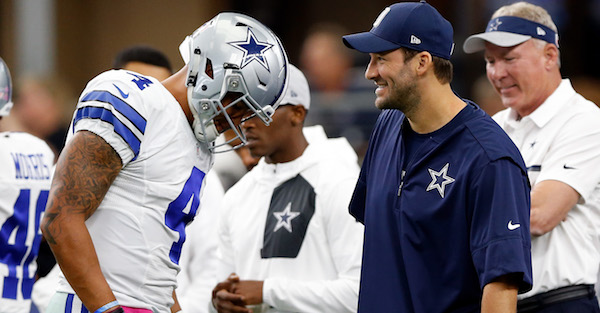 Wesley Hitt/Getty Images
ARLINGTON, TX - OCTOBER 09: (L-R) Dak Prescott #4, quarterback of the Dallas Cowboys talks with injured quarterback Tony Romo #8 prior to the game against the Cincinnati Bengals at AT&T Stadium on October 9, 2016 in Arlington, Texas. (Photo by Wesley Hitt/Getty Images)
To this point in the Tony Romo-Dak Prescott saga, the former has always looked liked the picture of class, voicing not even the slightest opposition to the idea of being relegated to the backup role.
As it turns out, however, things haven't always been exactly as they seemed, and Romo didn't fade into the background quite so easily. In a recent Sports Illustrated interview, Cowboys vice president Stephen Jones said Romo privately met with the team's brass in an effort to get his starting job back.
And Jones admitted that he had to let Romo figure out which way the organization was headed.
"…when he came out and said it, in the end, I don't think it took him long to figure that wouldn't be a great thing for the team. We've got a good thing, and no one wants Dak looking over his shoulder."
RELATED: NFL legend thinks that Tony Romo will make this move next season
Jones also explained why Dallas had been dragging its feet rather than just coming out and saying that the team was now Prescott's. The decision was such a massive one, he said, that it needed long and careful consideration.
And now that the call's been made, Jones appears supremely assured by the choice.
"We've got supreme confidence that Dak is our future," Jones said. "We've just seen too much. And you may say, 'Well, it's only been nine games.' No, it's the full body of work. And it's not just on the field, it's off the field too. It's how he handles every situation—bringing us back down two scores in San Francisco; last week, he leads the game-winning drive twice in Pittsburgh; coming back against Philly. He keeps checking every box."