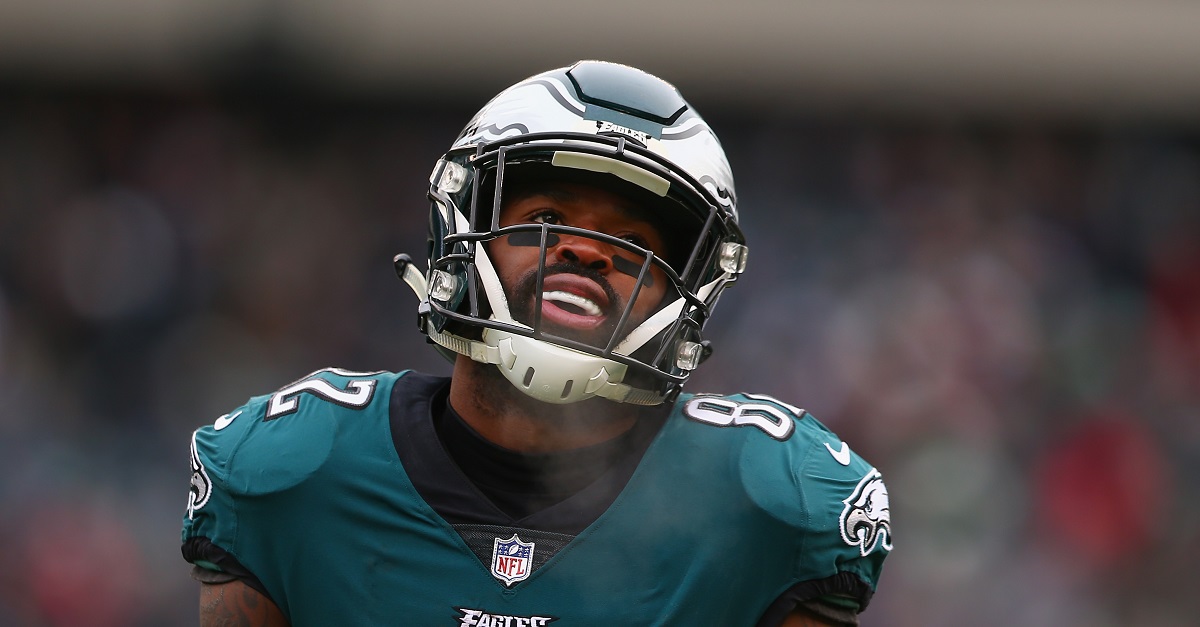 Mitchell Leff/Getty Images
PHILADELPHIA, PA - DECEMBER 31: Wide receiver Torrey Smith #82 of the Philadelphia Eagles reacts after dropping the ball on a third-down against the Dallas Cowboys during the first quarter of the game at Lincoln Financial Field on December 31, 2017 in Philadelphia, Pennsylvania. (Photo by Mitchell Leff/Getty Images)
There are certainly a few worthy candidates for this NFL season's MVP, but one former Super Bowl champion, Torrey Smith, thinks Carson Wentz is a shoo-in.
Nevermind the fact that the two are teammates in Philadelphia. Nevermind the fact that Smith is biased, and he admitted as much.
Here's what he said about his quarterback while speaking in the Eagles' locker room this past Thursday, as passed on by NBC Sports Philadelphia:
"Absolutely," Smith said. "And I'm biased too. I'll tell you that, I am biased. I think he still should be, even with the missed games. I mean, what he meant to this team, what he was actually able to do and he missed two games.

"It's pretty crazy. Because he probably wouldn't have played the last game if he was there. He missed two games. Still was right up at the top of everything else. I think it says a lot about him."
Technically, Wentz has missed three games for the Eagles because of his season-ending injury, but that's semantics as far as his stats in 2017 are concerned.
The second-year quarterback out of North Dakota State has a great case to make for NFL MVP. In 13 games, he threw for 3,296 yards and 33 touchdowns compared to just seven interceptions. Even after missing the last few games of the season Wentz ended up second in the NFL in touchdowns thrown, just behind Russell Wilson, and he was an integral part in the Eagles getting the first-seed in the NFC Playoffs.
In fact, had Wentz not gotten hurt, the Eagles would likely be the current favorites to win it all.
So yeah, Smith may be a bit biased, but he still makes a great point regarding Wentz and the MVP award.