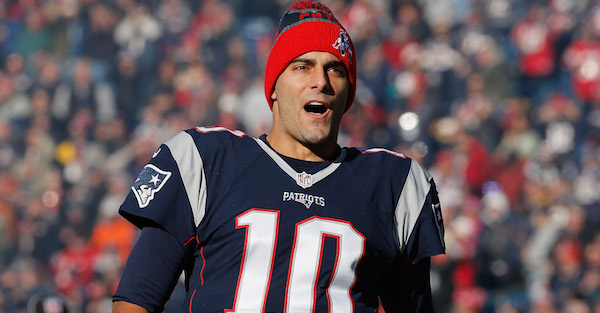 Jim Rogash/Getty Images
FOXBORO, MA - DECEMBER 04: Jimmy Garoppolo #10 of the New England Patriots reacts before the game against the Los Angeles Rams at Gillette Stadium on December 4, 2016 in Foxboro, Massachusetts. (Photo by Jim Rogash/Getty Images)
The New England Patriots are still interested in trading quarterback Jimmy Garoppolo, but they have a very high asking price according to NFL.com's Mike Garafolo.
Related: Despite what they may say, Patriots reportedly making big offseason plans 
Garafolo reported the Patriots are seeking a first-round pick in 2017 and a first-round pick in 2018 for Garoppolo.
The Cleveland Browns still have interest in Garoppolo, but Cleveland.com's Mary Kay Cabot reported the Browns are unlikely to deal two first-round picks for him.
"Despite a report by ESPN that the Patriots won't trade Jimmy Garoppolo, I'm told that nothing has changed and that teams — including the Browns — will still try to land him," Cabot wrote.
"One source told me he believes it might take as much as a No. 1 this year and No. 1 next year — which I'm sure the Browns won't be willing to do. But if New England will accept their No. 12 overall pick and maybe another later selection, I think the Browns would strongly consider that."
Cabot said a scenario where the Browns end up with Garoppolo and defensive end Myles Garrett would be ideal.
Garoppolo has one year left on his rookie contract.
(h/t WEEI)