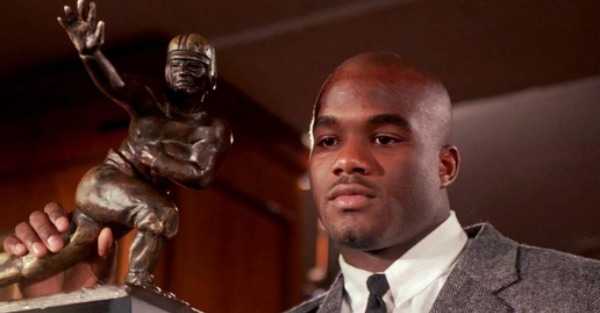 Twitter Screen Shot
Rashaan Salaam, the former University of Colorado star and former first round draft pick of the Chicago Bears, was found dead in a park in Boulder, Co. on Tuesday. He was 42.
The Colorado Buffaloes, on its officials Twitter page, also tweeted this:
Salaam won the 1994 Heisman after rushing for 2,055 yards and 24 touchdowns for the Buffaloes. The Bears took him in the first round of the 1995 draft — No. 21 overall — and he had a record-setting campaign, setting the team's rookie rushing record with 1,074 yards, to  go along with 10 touchdowns. But that would be his last solid season.
Salaam, at the time, was the youngest Heisman Trophy winner when he received the award in 1994 after running for 2,055 yards and 24 touchdowns for Colorado. He became the 21st pick of the 1995 NFL Draft and set the team's rookie record with 1,074 yards, to go with 10 touchdowns.
But in a 2014 interview with Pro Football Weekly, Salaam lamented that he threw away a promising career. He said he really needed a mentor when going from college to the pros because he lacked discipline and partied too much. After that amazing rookie season, he would play only 17 more games in the NFL — 15 with the Bears and two with the Cleveland Browns. He was out of the league for good in 1999, and didn't catch on in the fledgling XFL or CFL.
"On one hand, I did have a great life, but on the other, I was a big disappointment," he said in the interview.
At the time of the interview, Salaam was spending time talking to under privileged children about how to make the most of their future.
Sadly, that good work has been cut short.
It's the second time in about a week a former NFL running back has died too soon. Joe McKnight, the former University of Southern California star and New York Jets returner,  was shot and killed in an apparent road rage incident in Louisiana. He died Dec. 1. A suspect has been arrested in the case.