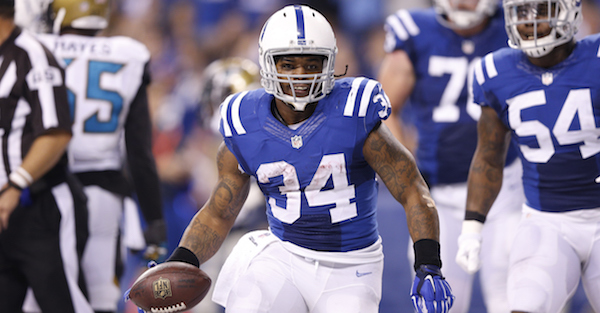 Joe Robbins/Getty Images
INDIANAPOLIS, IN - NOVEMBER 23: Trent Richardson #34 of the Indianapolis Colts celebrates after a one-yard touchdown run in the third quarter of the game against the Jacksonville Jaguars at Lucas Oil Stadium on November 23, 2014 in Indianapolis, Indiana. The Colts defeated the Jaguars 23-3. (Photo by Joe Robbins/Getty Images)
UPDATE: According to Matt Zenitz of AL.com, Richardson has now opted against signing a contract with the Canadian Football League's Saskatchewan Rough Riders. Richardson was reportedly in the process of joining the Rough Riders.
Zenitz cites the reason being that Richardson would have been forced to sign a two-year deal, which would not allow Richardson take another shot at the NFL until the 2019 season. Richardson, the former No. 3 pick of the 2012 NFL Draft, still has a desire to return to the NFL after flopping out of the league in recent years due to poor play.
The story will be updated as more information is made available.
***original story below***
---
It looks like one of the biggest Draft busts in NFL history is getting yet another shot… in Canada.
According to Mike Florio of Pro Football Talk, former Alabama running back Trent Richardson is "in the process" of signing with the Saskatchewan Rough Riders of the Canadian Football League. Richardson was last with the Baltimore Ravens during the 2016 preseason.
Richardson has not played in an NFL regular season game since 2014. The former No. 3 overall pick of the 2012 Draft originally rushed for almost 1,000 yards in his rookie year with Cleveland. However, he was then traded to the Colts for a first-round pick in 2013, and Richardson hasn't been the same player ever since.
At Alabama, Richardson seemed poised to become a star in the NFL, winning two national championships. In 2011, Richardson rushed for 1,679 (5.9 YPC) and 21 touchdowns en route to being named a unanimous first-team All American.