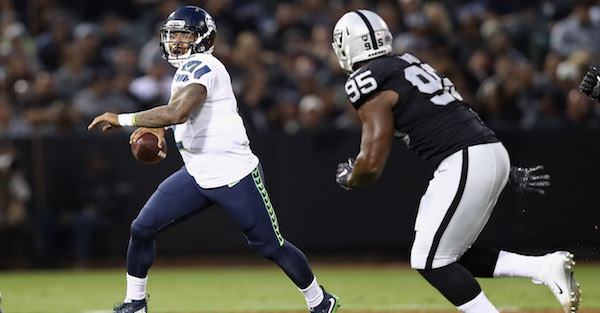 Ezra Shaw/Getty Images
OAKLAND, CA - SEPTEMBER 01: Trevone Boykin #2 of the Seattle Seahawks looks to pass the ball against the Oakland Raiders at the Oakland Alameda County Coliseum on September 1, 2016 in Oakland, California. (Photo by Ezra Shaw/Getty Images)
Trevone Boykin is no longer a member of the Seattle Seahawks, and as it stands, he currently doesn't have an NFL team.
The Seahawks have announced, via Twitter, that Boykin has been cut. In fact, they've announced that he's been cut along with multiple other players.
The release of Boykin is not a huge surprise, especially considering his recent off the field transgressions.
Boykin was arrested back in March of 2017 after he was the passenger of a car that crashed into a Dallas bar. While that offense in itself wasn't illegal, because he wasn't driving, Boykin was arrested for public intoxication as well as possession of marijuana. That was Boykin's first arrest in connection with that incident, but oddly enough, it wasn't his last. He was arrested 11 days later due to a violation of probation. Reportedly, he was on probation the night of the first arrest.
Seattle's decision to let Boykin go was likely made easier by his play this preseason for the Seahawks. In four games, he completed only 30-of-50 passes for 410 yards, two touchdowns, and four interceptions.
Seattle is apparently comfortable going with Austin Davis as Russell Wilson's backup.
Boykin was a star quarterback for the TCU Horned Frogs from 2012-2015. He was the Big 12 Offensive Player of the Year in 2015.