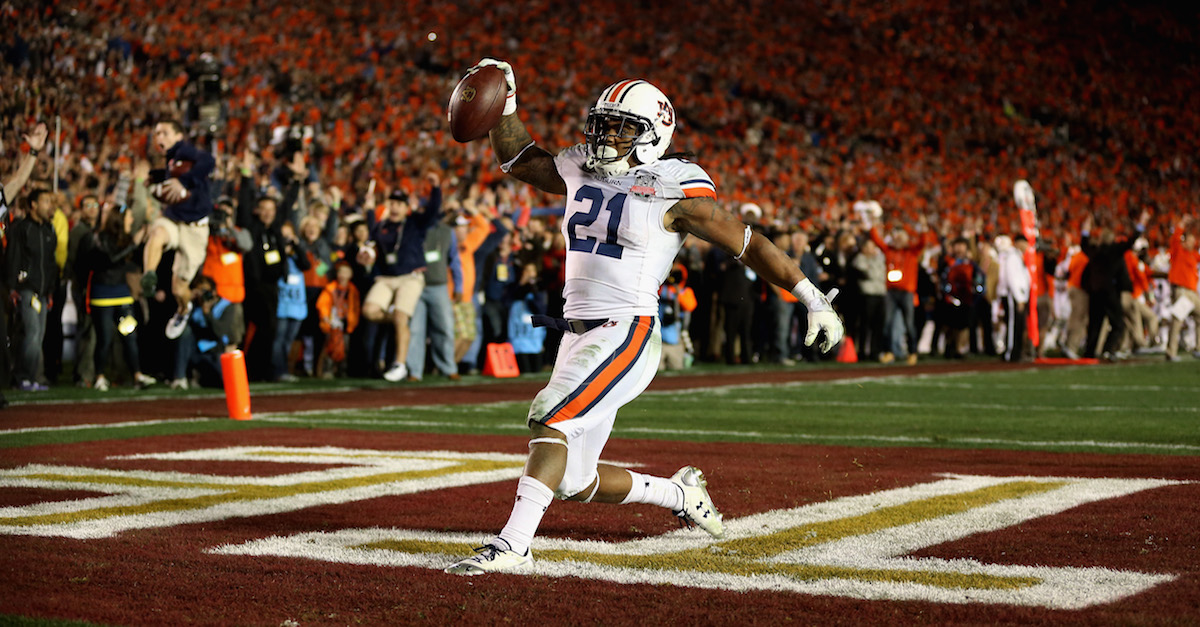 Jeff Gross/Getty Images
during the 2014 Vizio BCS National Championship Game at the Rose Bowl on January 6, 2014 in Pasadena, California.
Tre Mason's brief NFL career was derailed after the 2015 season due to numerous off-the-field issues, but the former Los Angeles Rams and Auburn running back is preparing himself for an NFL comeback.
Related: This former NFL running back faces yet another court hearing, and his mother says he?s ?not himself?
Mason and former Auburn teammate Ricardo Louis, who plays for the Cleveland Browns, have been working out together this offseason, and Louis told TMZ that Mason is ready for a return to the NFL.
Mason had a court appearance in Florida on April 7 after he evaded police last summer. He was spotted driving an ATV carelessly, and he fled from police when they attempted to stop him.
Related: The latest story involving Tre Mason is by far the most bizarre
Over a year ago, Mason was arrested for going 75 mph in a 35 mph zone, and he also had possession marijuana.
His mom said Mason had the mindset of a 10-year-old, most likely due to injuries suffered while playing football.
Louis said Mason was waiting for the NFL Draft to pass before he decided on a team to play for next year.
Mason was a third-round pick by the Rams in 2014, and he rushed for 765 yards and four touchdowns as a rookie. His sophomore campaign was far less productive, as he was overshadowed by Todd Gurley.
During his time at Auburn, Mason led the Tigers to the national championship game in 2013, and he was also a finalist for the Heisman trophy after rushing for 1,816 yards and 24 touchdowns?including 304 yards and four touchdowns against Missouri in the SEC Championship Game.
(h/t The Spun)