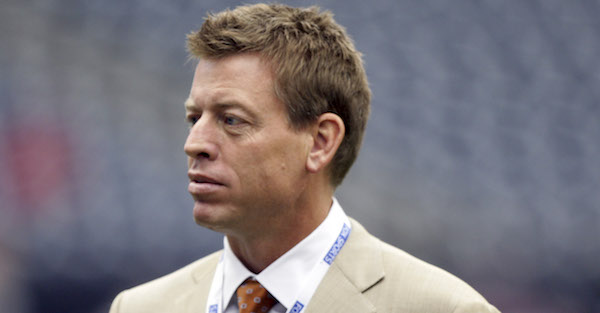 Bob Levey/Getty Imagess
HOUSTON - SEPTEMBER 26: Former Dallas Cowboys quarterback Troy Aikman and FOX broadcaster looks on before the Houston Texans play the Dallas Cowboys at Reliant Stadium on September 26, 2010 in Houston, Texas. (Photo by Bob Levey/Getty Images) *** Local Caption *** Troy Aikman
Dallas Cowboys legend and current FOX Sports broadcaster Troy Aikman criticized his former team's coaching staff after Sunday's loss to the Seattle Seahawks, including head coach Jason Garrett, who served as his backup quarterback for several years during his playing career.
Aikman questioned Dallas' decision not to run the ball with Pro Bowl running back Ezekiel Elliott while trailing by 9 points with less than 8 minutes remaining on the opposing 5-yard line during first or second down.
?To be inside the 5-yard line and not give the ball to Zeke [on] first or second down, that?s going to be questioned,? Aikman said according to Barry Horn of the Dallas Morning News. ?When you?ve got Ezekiel Elliott ? and you don?t give him the ball in a critical situation, it?s hard to justify.?
Elliott, who returned for a six-game suspension following an investigation into an alleged domestic violence incident on Sunday night, recorded 28 rushing attempts during the game, but wasn't utilized during the Cowboys' critical possession late.
The second-year back converted on 4 of 8 rushing attempts for touchdowns from inside the 5-yard line prior to Sunday's game.
With the loss, Dallas was eliminated from playoff contention, which will likely lead to Garrett facing questions about his job status with the team.