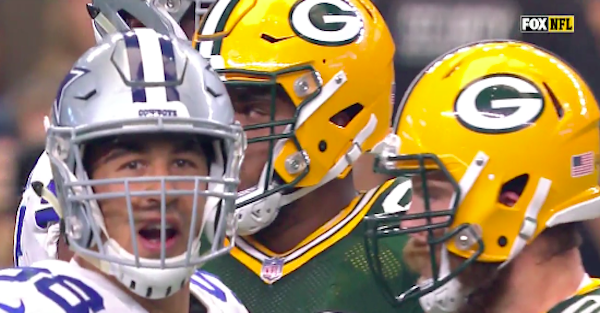 Clippit screenshot
Troy Aikman is undoubtedly one of the greatest quarterbacks of all-time. There's a reason why he's in the Hall of Fame, and he has some nice bling on his hand to serve as his resume.
But when it comes to his career as a color commentator, Aikman isn't always as graceful as he was for the Cowboys ? especially during Dallas' Sunday afternoon game against the Green Bay Packers.
When Cowboys defensive lineman Tyrone Crawford made his way (easily) around Green Bay's Lane Taylor to sack Aaron Rodgers, Aikman was caught in cruise control thinking it was David Bakhtiari, another Packers offensive lineman, whom Crawford beat around the edge to sack Rodgers.
Then as the camera flashed to Bakhtiari on the sideline ? in street clothes, as he missed the game with a hamstring injury ? Aikman was caught off guard and literally just stopped speaking on live TV.
The awkward silence was so potent, you could only cringe as you heard it.
Who do you think was in more pain: Rodgers after being hit by Crawford or the millions at home having to listen to Aikman stumble over his words?