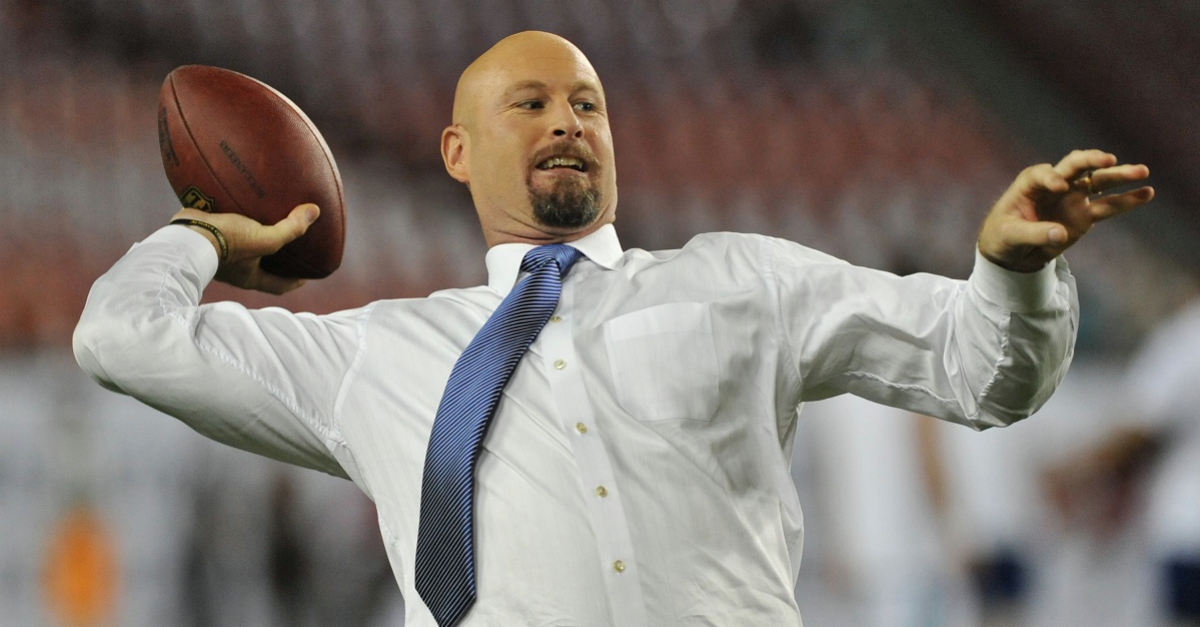 Al Messerschmidt/Getty Images
TAMPA, FL - NOVEMBER 11: ESPN commentator Trent Dilfer throws a pass on the field before the Miami Dolphins play against the Tampa Bay Buccaneers in a Monday Night Football game November 11, 2013 at Raymond James Stadium in Tampa, Florida. (Photo by Al Messerschmidt/Getty Images)
It's rare when two ESPN employees have an open dispute, but NFL Insider Adam Schefter and analyst Trent Dilfer recently had one regarding the New England Patriots.
Related: Adam Schefter maintains what the Patriots would get as a ?minimum? for Jimmy Garoppolo
Schefter recently reported that it will take at least a first and fourth-round pick to acquire backup quarterback Jimmy Garoppolo. Dilfer did not agree, and he even suggested Schefter was being used by the Patriots. Schefter disagreed and said the Pats weren't using him.
?Nobody in New England has ever told me a certain price that they want or are expecting on Jimmy Garoppolo,? Schefter said. ?I can promise you that. The New England brass is not using me to get a price out on Jimmy Garoppolo. That?s a fact that we can dispel right there.?
Schefter did say he wasn't reporting that's what it would take exactly to get Garoppolo, but he said he'd be closer than Dilfer on the asking price.
?I might be wrong, but I can tell you this, I?m gonna be closer than Trent Dilfer is ? and I might be low on the 1 and 4," Schefter said. ?And nobody has ever said to me, ?Can you please put this out there so we can drum up the interest?? It?s amazing that somebody that I work with and respect as much as I do would say something like that.?
Dilfer was played the audio from Schefter during his appearance on Dale and Holley, and he apologized to Schefter.
?By the way, Adam and I are really good friends, so I almost feel apologetic," Dilfer said. "When I said that last week, I felt like the Patriots were creating that message to start a bidding war for Jimmy Garoppolo. I did not mean to throw Adam?s name in there by any stretch of the imagination. I just listened to my sound and it sounded like I was accusing Adam of being a pawn for the New England Patriots. By no means was I implying that whatsoever.?
Garoppolo has one year left on his deal before he hits free agency, so the Patriots will likely trade him this offseason.
(h/t The Big Lead)