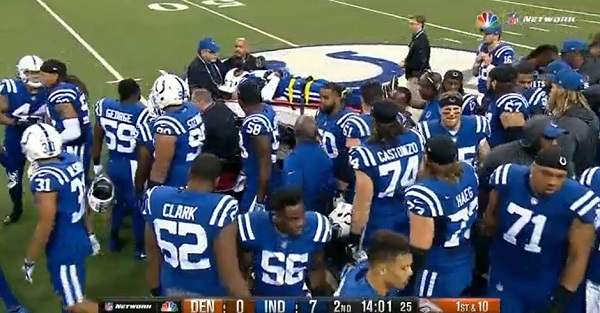 Clippit/Screenshot
Indianapolis Colts tight end Brandon Williams was carted off the field during Thursday Night Football against the Denver Broncos after taking a hit to the head.
Williams takes a hit to the helmet on what appeared to be a normal play that called for him to pass block. Soon after contact was made, Williams falls backwards immediately and was left needing medical attention. Williams, who was on the field for several minutes, was eventually put on a backboard and taken to a local hospital.
According to ESPN, Williams has since been released from the hospital after being diagnosed with a concussion. There was an initial scare that Williams — who has spinal stenosis — may have suffered a spinal cord injury, but he appears to have been cleared on that front.
The severity of Williams' concussion is unknown, but Indianapolis head coach Chuck Pagano mentioned that Williams was back with the team at the end of the game.
We wish Williams the best in his recovery from the injury.