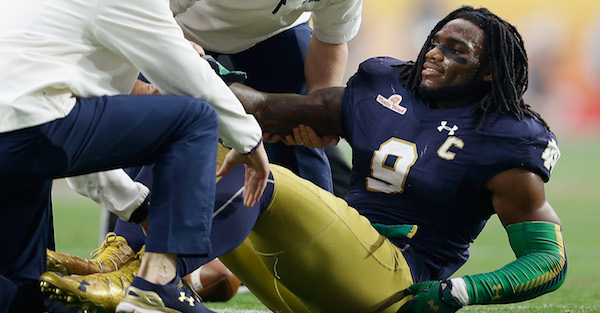 Christian Petersen/Getty Images
GLENDALE, AZ - JANUARY 01: Linebacker Jaylon Smith #9 of the Notre Dame Fighting Irish lays on the field after an injury during the first quarter of the BattleFrog Fiesta Bowl against the Ohio State Buckeyes at University of Phoenix Stadium on January 1, 2016 in Glendale, Arizona. The Buckeyes defeated the Fighting Irish 44-28. (Photo by Christian Petersen/Getty Images)
When it comes to Jaylon Smith, the Dallas Cowboys will be banking on the old adage with great risk comes great reward. Because, man, did they take an enormous gamble there.
According to ESPN's Todd Archer, the good news is that Smith, who the Cowboys drafted 34th overall in the 2016 NFL Draft, is beginning to regain feeling in his leg after suffering a serious knee injury in Notre Dame's final game of the 2015 season. And the Cowboys appear certain that he'll be back on the field in 2017.
The bad news, however, is that he sat out a whole season and it will still be a while before coaches even begin to know what they have in Smith. The question now becomes if all that time was wasted when there were a number of other players available to select that might have had an immediate impact.
RELATED: Jerry Jones admits what his "lowlight" of running the Cowboys has been
The hope was, and certainly still is, that Smith can duplicate the potential he showed with the Irish. Pairing that version of Smith with linebackers Sean Lee and Anthony Hitchens could give Dallas one of the best linebacking corps in the NFL.
Only time will tell if Smith can make that kind of return to form, but after what we saw in the Cowboys' divisional round playoff game against the Packers, his speed, athleticism and versatility are all much-needed commodities on the defensive side of the ball.