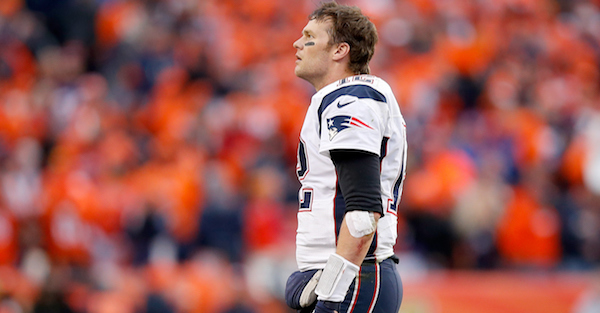 DENVER, CO - JANUARY 24: Tom Brady #12 of the New England Patriots looks on in the second half against the Denver Broncos in the AFC Championship game at Sports Authority Field at Mile High on January 24, 2016 in Denver, Colorado. (Photo by Ezra Shaw/Getty Images)
Related: Boston sports analyst says someone needs to murder Roger Goodell
---
The US Appeals court has reportedly sided with Roger Goodell and the NFL, and has reinstated the four-game suspension stemming from DeflateGate against New England Patriots quarterback Tom Brady, per the ruling.
"We hold that the Commissioner properly exercised his broad 20 discretion under the collective bargaining agreement and that his 21 procedural rulings were properly grounded in that agreement and 22 did not deprive Brady of fundamental fairness. Accordingly, we 23 REVERSE the judgment of the district court and REMAND with 24 instructions to confirm the award."
The ruling also notes Goodell was authorized to hand down such punishment based on "conduct detrimental to the integrity of professional football."
Brady was handed down the suspension after the Patriots were fined and had draft picks taken away. The quarterback appealed the decision, won in court and played all of last season.
The decision was made to overturn Brady's appeal despite evidence suggesting Goodell backtracked on the DeflateGate timeline, information leading to speculation that the NFL lied about the case and it has led to talks of the commish being stripped of his power.
The first four opponents aren't exactly world-beaters, and we'll likely get the first real look at Jimmy Garoppolo.