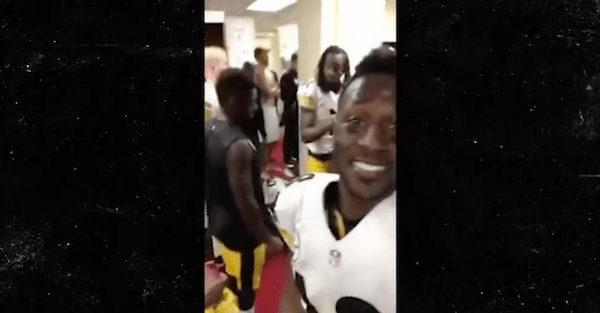 TMZ screenshot
The Pittsburgh Steelers likely aren't thrilled after video emerged late Sunday night of Antonio Brown on Facebook Live during head coach Mike Tomlin's speech to the team.
Here's what Tomlin can be heard saying, as transcribed by CSNNE:
?When you get to this point in the journey, not a lot needs to be said,? said Tomlin. ?Let?s say very little moving forward. Let?s start our preparations. We spotted those a******* a day and a half. They played yesterday. Our game got moved to tonight. We gonna touch down at 4 o?clock in the f****** morning. So be it. We?ll be ready for that ass. But you ain?t gotta tell them we coming. Because some of us might not like the damn (woofkisses?) The chest pounding. Keep a low profile.?
Then, what sounded like quarterback Ben Roethlisberger spoke up, giving praise to the Patriots and calling Foxborough a "lion's den."
It's not a good look for Brown, or the Steelers in general, who multiple times note to be cool on social media and not to do anything that would distract the team.
Whether he meant to or not, he's developed some bulletin board material for one of the more lethal teams in the game today.