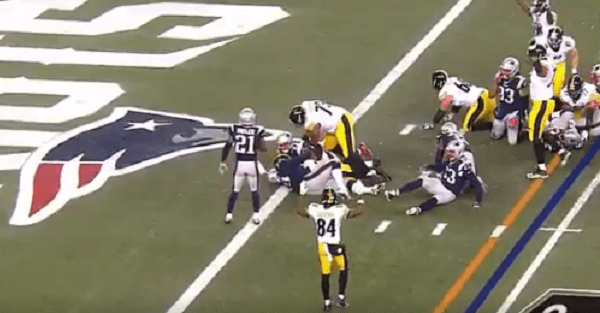 Twitter/@gifdsports
The Pittsburgh Steelers were beaten soundly by the New England Patriots in the AFC Championship Game and, as a result, the team isn't the most prominent when it comes to NFL news. However, the Antonio Brown saga continues, as the All-Pro wide receiver has been embroiled in controversy since electing to stream the Steelers locker room on Facebook Live after a playoff victory.
While the team and head coach Mike Tomlin did what they could to diffuse the situation, a report from Aditi Kinkhabwala of NFL Network indicated over the weekend that Brown had an issue with Pittsburgh's play calling in a selfish way (h/t ProFootballTalk):
According to the report, after DeAngelo Williams scored the Steelers' first touchdown in the AFC Championship Game, Brown was pouting while the rest of his teammates were celebrating because Brown wanted the ball to go to him, not Williams, on the play.
However, that report appears to be refuted, at least to some degree, by video captured on the play in question.
This does not completely mean that Brown did not cause a ruckus in the aftermath but, on the field, he certainly appears to enjoy the touchdown. Wide receivers, as a general rule, carry the burden of reputation in a selfish manner and Brown's action on Facebook Live likely aren't doing him any favors in this regard. In the same breath, reports such as this often take on a life of their own and, from what we can see publicly, this could be another example of that.