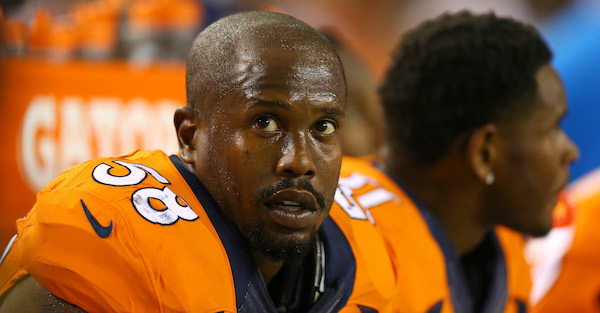 Justin Edmonds/Getty Images
DENVER, CO - SEPTEMBER 08: Outside linebacker Von Miller #58 of the Denver Broncos looks on from the bench in the first half against the Carolina Panthers at Sports Authority Field at Mile High on September 8, 2016 in Denver, Colorado. (Photo by Justin Edmonds/Getty Images)
"Cash rules everything around me." Wu-Tang Clan's statement still holds true today.
Amid the controversy surrounding the NFL, Donald Trump, and the growing number of players, coaches, and NFL owners who did not stand for the national anthem this past weekend, we're getting a peek at one of the core issues here.
Money.
You see, prior to the Denver Broncos' 26-16 loss to the Buffalo Bills on Sunday, star outside linebacker Von Miller was one of many to take a knee during the national anthem. Subsequently, a Colorado car dealership, who had done business with Miller and had been airing a commercial with Miller endorsing its products, asked two TV stations to stop airing the advertisement.
According to the Denver Post, Miller's deal with the dealership had expired, but one of the stations asked to pull the ad reported that Miller had been "fired" by the dealership.
That dealership released a statement and claimed that ongoing contract negotiations were the driving force behind the decision to pull the commercial:
"We are evaluating the events of the weekend. It is important to state that we haven't fired Von. We are in the middle of contract renewal and this weekend's events remind us that sometimes we feel that we best represent ourselves. We support Von and his first amendment rights, we know Von and he's a good person. He donated a police car to his hometown police dept. All that notwithstanding when we bring in celebrities to represent us we run the risk of being misrepresented. 
We, like millions of Americans are concerned and will respond consistently with our values as a proud American company founded by a war hero (Phil Long). While we can't control the actions of others we can be responsible for how we support our nation and community. That is why, years ago, our principal owner, Jay Cimino, founded the Mount Carmel Veteran's Service center, and is supported by all Phil Long Dealerships. We support this cause not just with our words, but financially as well, and it is serving hundreds of veterans in need right here in Colorado. This would be a great time for our community to show support for our military community by supporting this cause or others that continue to serve them after they serve us."
Now, you can release as many statements as you want. But where there's smoke, there's fire. And the fact that Miller's contract with the dealership supposedly ended in March and the ad was pulled the day after he took a knee during the anthem, well, that speaks volumes.
Here's the thing, though, it's the car dealership's prerogative to pull the ad. It's business. Miller's decision to kneel is not accepted by everyone, and it could affect business.
That's fine. Do you, Phil Long Ford. Protect your image. Protect your money and your business.
Just be up front about it.
[h/t Sports Illustrated]