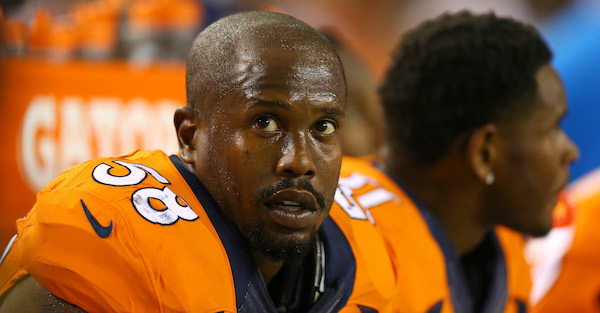 Justin Edmonds/Getty Images
DENVER, CO - SEPTEMBER 08: Outside linebacker Von Miller #58 of the Denver Broncos looks on from the bench in the first half against the Carolina Panthers at Sports Authority Field at Mile High on September 8, 2016 in Denver, Colorado. (Photo by Justin Edmonds/Getty Images)
When you are a Super Bowl MVP, you get a little more leeway when talking about your team… but this might not make many fans for Von Miller in the Denver Broncos locker room.
In an interview with the Washington Post, Miller was asked about Washington Redskins quarterback Kirk Cousins, saying that, "a lot of teams would kill to have a quarterback like that". Miller seemed to include his own Denver Broncos on that list, something that might not sit well with Denver quarterbacks Trevor Siemian, Brock Osweiler, and Paxton Lynch.
Washington defeated Denver by a 27-11 score on Sunday. Cousins had 299 yards and three touchdowns.
Of course, there's a middle ground that can be found here; the fact that you even have to list three names among Denver's quarterbacks shows the problem that they have at the position. Cousins, with almost 4,000 yards and 27 touchdowns against just ten interceptions this season, easily outranks any of the three Denver signal-callers.
That said, the season isn't even over yet, so the comments come off as a bit harsh for those currently wearing the orange and blue in Denver. Of course, as far as next season goes, it could very well be Cousins as the one sharing a locker room with Miller at Mile High Stadium.