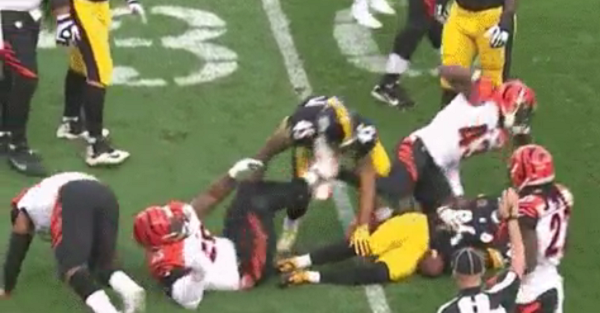 @Alex_Kozora/Twitter
@Alex_Kozora/Twitter
Cincinnati Bengals linebacker Vontaze Burfict is easily the dirtiest player in the NFL and his dirty play took another turn on Sunday when he played division rival Pittsburgh. Normally he would go for a couple unnecessary roughness penalties with hits after the whistle, but he decided to go for a more underhanded tactic this week. He thought he would kick a guy in the face:
Burfict kicked fullback Roosevelt Nix in the face and then for some reason was pointing at him like he did something wrong. Somehow a flag was not thrown for the play, but there might be a fine that comes down should the league gets its hands on the video and decide it was intentional.
The Steelers won the game 29-14 and are now 5-2 on the season while also leading the AFC North.
[h/t The Spun]