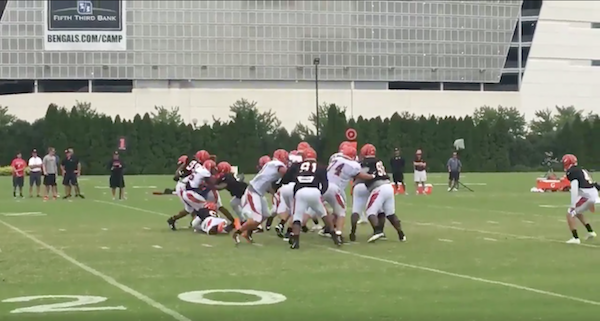 Jay Morrison/Twitter
It turns out that Cincinnati Bengals linebacker Vontaze Burfict delivers cheap shots to his own teammates as well as opposing teams.
Burfict caused a skirmish at Bengals practice on Tuesday after he dove at running back Giovanni Bernard's knees during a non-tackling drill.
Related: Vontaze Burfict took out Antonio Brown with one of the dirtiest hits we've ever seen
Tight end Tyler Eifert and running backs coach Kyle Caskey were very displeased with the hit, especially considering Bernard is coming back from ACL surgery.
Burfict is no stranger to dirty hits, but usually he saves them for the other team. He's only been in the NFL for five years, but he's been fined nearly $800,000 and flagged 16 times for a personal foul or unnecessary roughness. He also was suspended the first three games of last season for violating the league's personal safety rules.
Burfict is the dirtiest player in the league, and it seems as if his own teammates don't even like him.
(h/t The Big Lead)